How Much Fox Is Spending Trying To Get You To See Alien: Covenant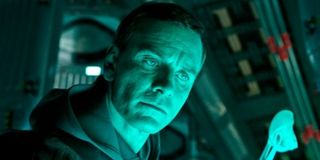 Word of mouth and positive reviews are no longer good enough for studios that have spent hundreds of millions of dollars on films. In order to get enough bums on seats the studios need to advertise films in a variety of different ways, and that can cost them an inordinate amount of money. In fact, by the time that Alien: Covenant is in cinemas, 20th Century Fox will have splashed somewhere around $22.35 million on television advertising alone in an attempt to entice people to see it.
But what has 20th Century Fox gotten by spending this amount on advertising? Well, the company has created 31 pieces of advertising that will air 1,706 times across 43 networks. If you want to see these adverts in all of their glory then the best place to watch is on TNT and Comedy Central, as 20th Century Fox believes this is where the movie will get the most traction.
Most specifically, the studio believes that sports fans are the most interested in going to see Alien: Covenant. This is why a hefty amount of the budget was spent on advertisements that will air during NBA games. Which makes it all the more disappointing that Fox didn't create an advert depicting LeBron James trying to dribble past a Xenomorph. Seems like a wasted opportunity to me. It's also worthwhile to note that $5.29 million of this advertising amount was spent just this week alone, as Fox look to amp up excitement and anticipation ahead of Alien Covenant's release this coming Friday.
But while 20th Century Fox is now deep in the throes of its Alien: Covenant promotional push, Warner Bros. is currently starting to try and gather some momentum for Wonder Woman, which is now just two weeks away from being released. Ten different Wonder Woman ads will air 605 times on 48 networks, meaning that the studio is going to ultimately spend around $12.02 million on advertising. Most of these TV spots will pop up on NBC and TNT.
The most surprising revelation from the figures released by iSpot.TV, via Variety, though, is that, at $4.21 million, Dreamworks Animation has spent more advertising Captain Underpants: The First Epic Movie than Disney's $4.01 million on Pirates Of The Caribbean: Dead Men Tell No Tales over the last week. Which just seems odd considering how much Disney has spent on the blockbuster, and how the company usually loves to splash the cash on their advertising.
We'll get to see if this strategy actually pays off for 20th Century Fox when Alien: Covenant is finally released on May 19, while Wonder Woman will follow on June 2. If neither of these films tickle your fancy then you can check out CinemaBlend's full 2017 movie schedule and find an upcoming release that actually does.
Your Daily Blend of Entertainment News