The Harry Potter Actress Who Played Professor Sprout Lashed Out Over A Cursed Child Question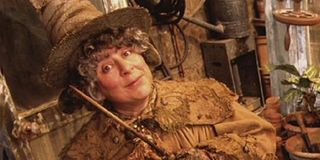 In J.K. Rowling's world, Professor Sprout was mostly known for her cheerful and generally positive demeanor, but in real life the actress who played the Harry Potter character is a little tetchier, at least when it comes to being asked about the famous franchise. Miriam Margolyes, who played Sprout through the run of the films, was recently asked if she'd seen the popular play Harry Potter and the Cursed Child. Only, she didn't seem remotely happy about answering the question, telling reporters:
Miriam Margolyes was just hanging out at the BAFTA awards when she was asked about the play. As you can see, her response was pretty over-the-top, making it clear that she's over all things Harry Potter, even if they are related to the stage and not the big screen. This is pretty in keeping with her personality, which is known for being fairly outspoken and shocking. Still, nobody ask her what she thinks about Fantastic Beasts and Where To Find Them 2 please.
In general, there are two ways that actors deal with being part of a beloved franchise. The first type of personality embraces the love of the fans and is willing to reminisce about that franchise on occasion. The second type of personality does not have any interest in reliving a former time in their career, and clearly Miriam Margolyes falls into the latter camp, much like Maggie Smith was happy when Downton Abbey was finally over.
To her credit, Miriam Margolyes has done a lot of work on the screen and the stage since the Harry Potter and the Deathly Hallows: Part 2 hit theaters back in 2011. She's been in movies like The Guilt Trip, The Legend of Longwood and the upcoming The Little Vampire 3D. She's also appeared in a slew of shows, including Bucket, Rake, Miss Fisher's Murder Mysteries, Trollied and the mini-series Nina Needs to Go. Onstage, she popularly starred in I'll Eat You Last. For the actress who played Professor Sprout, Harry Potter was a long time ago.
Per NME, after making her declaration about the new play set in J.K. Rowling's universe, Miriam Margolyes did calm down enough to say this one OK+ thing about Harry Potter and the Cursed Child
Still, suffice to say, if you are hoping for behind-the-scenes stories from the casts' years on set, I wouldn't go looking for the actress in question anytime soon. Luckily, if you are looking for set stories, there are plenty out there. And if you just want more from J.K. Rowling's magical universe, you can catch it when Fantastic Beasts and Where To Find Them 2 hits theaters in 2018.
Amazing Race & Top Chef superfan with a pinch of Disney fairy dust thrown in. If you've created a rom-com I've probably watched it.