The Get Out Scene The Cast Practiced For Weeks Before It Eventually Got Cut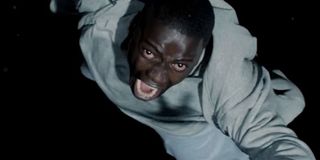 SPOILER WARNING: The following article contains major spoilers for Get Out. If you have not yet seen the film, and don't wish to have the ending ruined, please bookmark this page and return after your screening!
Movies are a tricky business. A vision that's crafted one day may not be realistic the next, and sometimes weeks of preparation goes up in smoke thanks to a quick edit. A perfect example of this fickle industry was illustrated in the making of Jordan Peele's Get Out -- as the stars of the movie actually practiced playing badminton for weeks in preparation for a scene that wound up not making it into the finished cut of the film.
A few weeks ago, I had the pleasure of catching up with Get Out stars Allison Williams and Daniel Kaluuya during the home video press day for their hit film, and it was during our conversation that we discussed the sequences that didn't make it into theaters. One particular scene that Williams highlighted was a game of badminton that their characters played -- and apparently it was a brief moment in the movie that required quite a bit of preparation. Said Williams,
The deleted scene -- which is featured on the now-available Blu-ray -- takes place during the big Armitage annual event in the middle of the movie. Chris (Daniel Kaluuya) is asked by Rose (Allison Williams) and Jeremy (Caleb Landry Jones) to join in a game of badminton, and they casually hit the birdie back and forth over the net with their rackets. The scene starts to get really creepy, however, as Chris notices that all of the guests at the party have not only come over to watch the game, but have come over to specifically watch him play.
Of course, the reason why the party guests are watching Chris is because they want to see what he's capable of, should they decide to place a high bid and take over his body. It's actually a pretty great scene that does a nice job ratcheting up the oddness factor in Get Out -- but it's also easy to see why it could be viewed as ancillary.
And while Allison Williams brought up the badminton game in our conversation, Daniel Kaluuya had a different Get Out deleted scene in mind that he was excited to see on the Blu-ray. He described an extended sequence in the movie set in The Sunken Place (which was previewed in the film's trailers), and admitted that he hadn't had the opportunity to see what the scene actually looked like. Said Kaluuya,
You can watch both Daniel Kaluuya and Allison Williams talk about the Get Out deleted scenes in the video below!
Get Out, which also stars Bradley Whitford, Catherine Keener, and Stephen Root, is now available on Blu-ray and DVD, and available for digital download.
NJ native who calls LA home; lives in a Dreamatorium. A decade-plus CinemaBlend veteran; endlessly enthusiastic about the career he's dreamt of since seventh grade.
Your Daily Blend of Entertainment News
Thank you for signing up to CinemaBlend. You will receive a verification email shortly.
There was a problem. Please refresh the page and try again.