9 Upcoming Romantic Movies Perfect For Your Next Night Out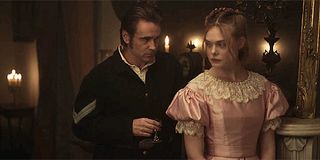 I'm not ashamed to admit that I'll watch anything with a romance component. I'm not above watching both cute and horrifying takes on relationships, and I even get invested in the Hallmark variety of rom coms that wrap their stories up with a tidy bow every Christmas season. That said, after years of big screen moves with tidy plots and little innovation, we're getting fewer straight-up rom coms and more intriguing and sometimes weird movies in the genre. Following the adorable release of Everything, Everything and even the recent Wonder Woman superhero flick that had a romance component, we wondered what else is coming up. Without further ado, here's what other romantic flicks you can look forward to over the next several months.
My Cousin Rachel
A romantic thriller, My Cousin Rachel stars Rachel Weisz and Sam Claflin in an unlikely romance about a young man who doesn't totally get women. It's certainly not your typical meet-cute, but it is one that should leave the audience with goosebumps.
When's It Out: June 9
The Beguiled
Also not your traditional romance, The Beguiled has a southern, Civil War era setting and prominently features some residents of a boarding school. After a wounded Yankee soldier arrives, plenty of sexual tension comes up. It's glorious Gothic melodrama.
When's it out: June 23
The Big Sick
The first romantic comedy on this list, The Big Sick stars and was written by Silicon Valley's Kumail Nanjiani. It's based on his real-life story of courting his wife, and the issues his Muslim family had with dating an American lady.
When's It Out: June 23
A Ghost Story
A Ghost Story follows C and M, a couple who are living amicably. But after a horrible accident, C dies and comes back as a ghost under a sheet who tries desperately to reconnect with his wife. A tragic romance.
When's It Out: July 7
Tulip Fever
Set in 17th century Amsterdam, Tulip Fever will follow an artist who falls for a married woman during tulip season. He falls for her after he has been commissioned to paint her likeness.
When's It Out: August 25
Same Kind of Different As Me
A couple befriends a homeless man who helps them on the next step in their path. It's a story of relationships and friendships. Seems like a bit of a tearjerker and it's based on the book of the same name.
When It's Out: October 20
Forever My Girl
A country singer (swoon) comes home and (swoon) starts falling for the girl he left at home when he became famous. This may be a better one for a date night with your best gal pal than your partner.
When It's Out: October 27
Our Souls At Night
A Netflix original--yay streaming--Our Souls At Night will star Robert Redford and Jane Fonda as a widower and widow who have lived next together for years without really communicating that much. However, all that will be likely to change. As a Netflix entry, it's more for a night in, and that seems just right.
When It's Out: No date, yet, but stay updated with Netflix's premiere schedule.
Midnight Sun
Originally set for the summer of 2017, Midnight Sun stars Bella Thorne as a young woman who can't be out in the sunlight, as it can kill her, and who has spent most of her life holed up in her home. One night, she starts an evening romance, anyway.
When's It Out: Early 2018
Amazing Race & Top Chef superfan with a pinch of Disney fairy dust thrown in. Theme park junkie. If you've created a rom-com I've probably watched it.
Your Daily Blend of Entertainment News
Thank you for signing up to CinemaBlend. You will receive a verification email shortly.
There was a problem. Please refresh the page and try again.