Who Zendaya Might Be Playing In Spider-Man: Homecoming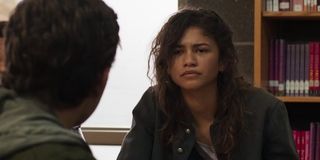 WARNING: there are major SPOILERS ahead for Spider-Man: Homecoming! For real, if you don't want to know about a huge twist in the movie, turn back now and click on another one of our fine articles.
Many of the characters in Spider-Man: Homecoming are folks who originated from the Marvel comics, and rightly so. But one of the mystery participants in the Web-Slinger's first MCU movie is Zendaya's character, who has simply been called Michelle in promotional material. Fans have been speculating for months about how she may connect back to the source material, from possibly being a version of Michelle Rodriguez to one rumor claiming she was actually Mary Jane Watson. Well, it looks like the truth about her is finally out now, and it's neither of those options. Instead, it appears that this Michelle is actually The Vulture's daughter.
In the junior novelization for Spider-Man: Homecoming (via MoviePilot), Michelle's full name is revealed to be Michelle Toomes, making her the daughter of Michael Keaton's Adrian Toomes, who will don mechanical wings and become The Vulture during the movie. Vulture does have a daughter (and a son) in the comics, but her name was Valeria. Since it's easy for anyone to type in "Valeria Spider-Man" on a search engine upon hearing that such a character has been added to Spider-Man: Homecoming, the creative team decided to give her a new name to keep her as a surprise twist. It was also revealed earlier this year that Keaton's Toomes was supporting a family, so part (if not all) of the the reason he's committing these villainous acts in the movie is so he can make sure that Michelle is well taken care of.
The Spider-Man: Homecoming trailers alluded that Vulture will eventually find out who his wall-crawling adversary is, as there are moments when Peter Parker is seen with his mask off while fighting Vulture, and in another scene, Toomes appears to be threatening Peter and everyone he cares for. However, now we know that he also has a connection to Peter through Michelle, who attends the same high school as Peter, Ned, Flash Thompson and Liz Allan. Having one of Spider-Man's villains be connected to Peter Parker is nothing new, but most frequently it's been through Norman Osborn, a.k.a. the Green Goblin, and his son Harry. With Spider-Man: Homecoming a month away from release, we'll have to wait and see how Michelle reacts to learning that her father is a super villain, and whether or not this will affect if she appears in the 2019 Spider-Man: Homecoming sequel.
We'll learn more about how Michelle fits into Spider-Man: Homecoming when the blockbuster hits theaters on July 7.
Connoisseur of Marvel, DC, Star Wars, John Wick, MonsterVerse and Doctor Who lore. He's aware he looks like Harry Potter and Clark Kent.
Your Daily Blend of Entertainment News
Thank you for signing up to CinemaBlend. You will receive a verification email shortly.
There was a problem. Please refresh the page and try again.