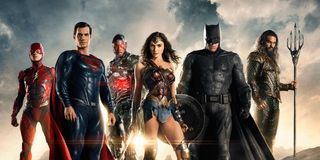 It's finally time for DC Comics' premiere superhero team to get their live action debut. The upcoming Justice League will see the likes of Batman, Wonder Woman, Aquaman, Flash, Cyborg, and yes, Superman, together on the big screen as they combat an invasion from Apokolips led by the villainous Steppenwolf. Warner Bros. may have taken some shortcuts to get here, but there's no doubt that the movie is going to be a must-see event when it hits theaters.
With a movie as big as Justice League, you know that there will be tons of characters running around beyond the core roster of heroes. Justice League will feature several returning characters from previous DCEU films, while also introducing new players who will be integral moving forward in a post-Justice League world. To help make sense of it all, we've compiled a list of every confirmed character for Justice League, in addition to some of the bigger rumors thrown in for good measure.
Batman
This one's a no-brainer. Batman is the lynchpin of the Justice League, having assembled the team in the wake of Batman V Superman: Dawn of Justice to combat a new threat. The Caped Crusader (Ben Affleck) is going to be a major character, finally learning to "play well with others again," as Commissioner Gordon put it. To keep up with his super-powered teammates, Batman has a number of powerful new vehicles and costumes at his disposal to help give him an edge.
Wonder Woman
Mankind doesn't deserve her, but boy are we glad she's here anyway. After stealing the show in Batman V Superman: Dawn of Justice and captivating the world in her solo film, Wonder Woman (Gal Gadot) is back! This time around, she's helping Bruce Wayne assemble his team of metahumans to fight against an impending invasion. The Princess of Themyscira is sure to be a key player in the movie, as well as a major powerhouse.
Superman
Dead or not, you can't have a Justice League movie without Superman (Henry Cavill). Though the character met his untimely death at the hands of Doomsday, Superman is nonetheless returning to the world of the living in Justice League, and Warner Bros. hasn't been shy about showing off the Man of Steel in promotional images, either. We don't know exactly how he'll come back, but rumors indicate that Superman could be wearing a black version of his costume and one can only hope that it will be accompanied by a beard and mullet.
Aquaman
Justice League will introduce mainstream audiences to an Aquaman (Jason Momoa) who's a little rougher around the edges. This hard drinking, lone wolf Aquaman is something of the wild card of the bunch, who is mainly drawn into the conflict through his undersea kingdom of Atlantis. Not just known as "the water guy," this Arthur Curry likes brawling, saving the world, and riding on the roof of the Batmobile. Following this, it's off to his own adventure in Aquaman.
Flash
His solo movie may not be coming anytime soon, but we'll get our first taste of the DCEU's Flash (Ezra Miller) in Justice League. This Barry Allen is a bit younger and less experienced than most of his teammates, but no less powerful, and will likely provide a lot of the comic relief. It'll be interesting to see how the film handles his super speed effects and sets him apart from his well-known TV counterpart.
Cyborg
Vic Stone was an upcoming football star before a tragic accident left his body in ruins. Fused with a mysterious alien technology, he became a machine-human hybrid known as Cyborg (Ray Fisher). Said to be the heart of Justice League, Cyborg will no doubt provide the emotion as he struggles with his new life while finding a place to belong. Fighting Parademons probably doesn't hurt much, either.
Steppenwolf
Taking the place of his nephew, Darkseid, as the main villain in Justice League is Steppenwolf. First introduced, oddly enough, in a deleted scene from Batman V Superman, Steppenwolf will lead his Parademon army to Earth in search of three Mother Boxes left on the planet thousands of years ago. Not much is known about Steppenwolf or his powers (outside of the comics), but he is likely to be a big enough challenge that it takes the whole League to face him in battle.
Lex Luthor
Ding-ding-ding-ding-ding! Jessie Eisenberg returns with his controversial take on Lex Luthor. It's unknown how Superman's arch foe factors into the movie, but he might be the only character who actually knows what's coming to Earth. Apparently, Batman pays Luthor a visit at Arkham Asylum to find out what he knows about Apokolips, but only time will tell if Luthor has a bigger part to play.
Lois Lane
It's not just superheroes and villains populating the cast of Justice League. Lois Lane will also be around to provide a human perspective to the massive spectacle. Amy Adam's take on the intrepid reporter will no doubt be in the thick of it as she reports from the streets on the story of the century, and she's likely to be tearfully reunited with a newly resurrected Superman.
Martha Kent
The other most important woman in Clark Kent's life is back for round 3. Diane Lane reprises her role as Superman's mother, and it's unknown how long she'll factor into the movie, though she's bound to learn about her son's resurrection. As long as there aren't any deeply uncomfortable Polaroid pictures of her as a hostage, then we should be good here.
Alfred
Batman just can't get away from this guy. The Dark Knight's No. 1 ally will be on hand to help him out in his biggest battle yet. Alfred (Jeremy Irons) will be providing support from the Batcave, providing Batman with all the intel he needs, and maybe taking remote control of some vehicles to get in on the action. If we're lucky, he may even make the Justice League some finger sandwiches when everything is said and done.
Commissioner Gordon
J.K. Simmons makes his DCEU debut as Commissioner Jim Gordon, one of Batman's staunchest allies. Not too much is known about the relationship between this version of Gordon and Batman, but it's clear from trailers that they've known each other for a long time. Gordon is used to defending the streets of Gotham City from all manner of scum, so invading aliens shouldn't be that big of a deal for Gotham's top cop.
Queen Hippolyta
Connie Nielson confirmed that she'd be reprising her role of Wonder Woman's mother, Queen Hippolyta of the Amazons. While a mother-daughter reunion could be on the table, Hippolyta will definitely be showing up in a flashback to a massive battle pitting the Amazons, the Atlanteans, and early mankind against the forces of Apokolips. The almost immortal nature of the Amazons means they can be in this scene and then thousands of years later appear in Wonder Woman. Hippolyta will cameo, leading the forces of the Amazons before taking one of the three Mother Boxes for safekeeping.
Antiope
Battling alongside Queen Hippolyta and the Amazons is their greatest warrior (pre-Wonder Woman, that is): Antiope (Robin Wright). The general of the Amazons will be seen with her sisters battling in the massive flashback scene that depicts the Amazons waging war against an army of Parademons. Sweet archery skills and flashy sword moves abound!
Euboea
Viewers will see plenty of familiar Amazons battling in Justice League's huge prologue set piece. The Amazon Euboea will be present, after first being seen briefly in Wonder Woman. She's played both times by stunt woman and martial artist Samantha Jo.
Epione
Another Amazon makes a cameo battling for planet Earth in the massive flashback and any other scenes that may involve Themyscira. Epione first debuted in Wonder Woman and will be portrayed by Eleanor Matsuura.
Menalippe
Played by Lisa Loven Kongslie, Lieutenant Menalippe can be seen during the Themyscira scenes in Wonder Woman, spending most of her screentime alongside Antiope. Menalippe returns in Justice League, with early concept art for the film showing her off in a uniquely purple colored outfit while combating the armies of Apokolips.
Zeus
Ruler of the gods and father of Wonder Woman, Zeus has a small part to play in Justice League. Producer Deborah Snyder confirmed that Zeus would be appearing in Justice League, no doubt during the prologue set piece set thousands of years ago, where he'll aid the Amazons against Apokolips in a battle of the Old Gods vs the New Gods. As of now, the casting for the role has not been announced.
Henry Allen
The father of the Flash, meanwhile, will have his cameo in Warner Bros. big team-up film. Henry Allen (Billy Crudup) can be seen in trailers behind bars having a heartfelt conversation with his son, Barry Allen. However, some rumors suggest that Crudup is looking to pass on the eventual The Flash movie due to the frequent production delays, so it's unclear -- should that happen -- if his cameo will be cut from Justice League or not.
Iris West
The Flash's main love interest in the comics, fans will get to see Iris West in full for the solo Flash movie. Before that though, Iris -- much like several supporting characters -- will be making her debut in Justice League with a quick cameo, according to reports. Kiersey Clemons will bring the character to life, though no one should expect her part to be too big.
Silas Stone
Cyborg's dad has his own part to play when Justice League hits theaters. The scientist was first seen in Batman V Superman applying Mother Box technology to his son in order to save his life, turning him into the hero Cyborg. Due to his possession of a Mother Box, Silas will have a target on his back, which will eventually draw Cyborg into the conflict to save his father after he is abducted by Parademons.
Mera
A few key players of Aquaman's supporting cast will make their DCEU debut, chief among them Mera. Brought to life by Amber Heard, Mera is Aquaman's main squeeze, though they might not be a "thing" yet at the time of the movie. She's already been seen in some trailers and promotional images. Mera is capable of controlling water for offensive purposes, making her a deadly warrior on par (and maybe even surpassing) her more well-known love interest.
Nuidis Vulko
Sort of like Aquaman's Alfred, Vulko is typically portrayed as being a trusted advisor to the King of Atlantis. He's deeply loyal to Aquaman and will likely make his debut during some of the Atlantis-set scenes that were briefly glimpsed in a trailer. The character will be played by Willem Dafoe, who will return to reprise the role in James Wan's Aquaman.
Darkseid (Unconfirmed But....Come On)
No one has said outright that Darkseid, leader of Apokolips and the God of Evil, would be in Justice League but his fingerprints are all over the film. It's his army that's invading Earth and he was heavily teased in that wild dream sequence from Batman V Superman. It'd be nuts if there was absolutely no brief tease of one of DC Comic's biggest and most powerful villains, who will surely be a major threat in the future of the DCEU. This one is all but a certainty.
Green Lantern (Unconfirmed)
Easily the most heavily rumored character to appear in the film is Green Lantern, who is traditionally a founding member of the Justice League. DC Films has a new Green Lantern movie coming down the pipeline, and several people have speculated that the hero will be making his debut appearance in Justice League based on the mysterious "Unite the Seven" message and his prominent placement in the new opening DC Comics logo. Warner Bros. is likely going to play this one close to their vests, so be on the lookout in Justice League for anyone with any peculiar green jewelry.
The Joker (Unconfirmed)
Jared Leto's Joker made his first appearance in Suicide Squad, and it wasn't exactly well-received. The weird acting choices and wardrobe notwithstanding, rumors have swirled that the Joker could have his own cameo in Justice League. These rumors were given some credibility when Jared Leto was seen in London briefly at the same time Justice League was filming, so time will tell. It's hard to think that the Clown Prince of Crime wouldn't love the large scale chaos caused by an invasion of Parademons.
Deathstroke (Unconfirmed)
Deathstroke was first revealed to be a part of the DCEU after Ben Affleck released a video of the villain from what people believed to be the set of Justice League, but it has not been officially confirmed he's in the movie. He was intended to be the villain of The Batman (unclear if that's still the case) but people still speculated that he'll make his debut in Justice League. For what it's worth, Zack Snyder released a photo of himself working on some storyboards and Internet detectives zoomed in on the artwork to reveal what sure looked like Slade Wilson, eye patch and all.
The Dead King (Unconfirmed)
This one is a good bit of speculation on my part but still. During the big Justice League set visit, an Ancient Atlantean King was seen in concept art of the huge prologue battle sequence among Atlantean soldiers. It could just be a random king, but seeing how many characters are being set up in this one movie, it's not crazy to think that this is King Atlan, the betrayed ruler who sunk Atlantis and rose from the dead thousands of years later as the Aquaman villain The Dead King. It's a fun cameo that would obviously have a big pay off much later in the future, but unconfirmed all the same.
Your Daily Blend of Entertainment News
Matt has lived in New Jersey his entire life, but commutes every day to New York City. He graduated from Rowan University and loves Marvel, Nintendo, and going on long hikes and then greatly wishing he was back indoors. Matt has been covering the entertainment industry for over two years and will fight to his dying breath that Hulk and Black Widow make a good couple.