Two Other Spider-Man Villains Who May Get Spinoff Movies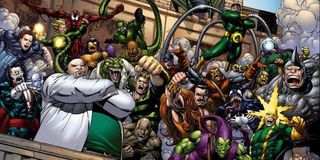 This has been a big year for the cinematic Spider-Man, and not just because his first movie set in the Marvel Cinematic Universe comes out next month. For the last several months, Sony has been announcing Spider-centric spinoff movies, which are now confirmed to take place in the MCU. Venom and Silver & Black have been public knowledge for a while, but the fun doesn't stop there, because the studio is also considering giving movies to Kraven the Hunter and Mysterio.
In its detailed story about how Marvel and Sony came together to work on Spider-Man, THR mentions that projects centered around Kraven the Hunter and Mysterio are in the works. No other details about these movies were revealed, but the article noted that Sony wants to "build a world gradually" rather than rush to it, which is what they were planning to do with Sinister Six back when the Amazing Spider-Man series was still running. That movie was eventually cancelled, but the studio is still keen on shining the spotlight on other Spider-Man villains besides Venom, but rather than bring such evildoers together in a team setting, Kraven and Mysterio will star in their own stories.
Both Kraven the Hunter and Mysterio have been Spider-Man adversaries since the superhero's early Silver Age years, with Mysterio debuting in The Amazing Spider-Man #13 and Kraven arriving two issues later. Mysterio, a.k.a. Quentin Beck, was originally a Hollywood special effects artist and stunt man, but when he realized his career was going nowhere, he put his illusion and technological background to work as a criminal. His gadgets, along with Beck's hypnosis skills, can convince his victims that they're seeing or experiencing things that aren't actually happening. He's also created chemical weapons that have weakened Spider-Man's abilities many times, including the hero's trademark Spider-sense.
As for Kraven the Hunter, born as Sergei Kravinoff, he is the world's greatest big game hunter, and he'd killed all of Earth's most dangerous animals on his own, he turned his attention to Spider-Man, who he considers to be the greatest game of all. Kraven's natural physical skills were impressive enough, but after taking a special potion, his strength, speed, agility, senses and stamina were all enhanced. Kraven is also the half-brother of The Chameleon, another longtime Spider-Man foe (in fact, he was the first super villain the Web-Slinger faced).
Both Kraven the Hunter nor Mysterio have made numerous appearances in animated TV shows and video games, but neither of them appeared in any of the previous Spider-Man movies. While both would make worthy villains for Tom Holland's Peter Parker to battle on the big screen, it's puzzling that Sony would look at them to lead spinoffs. Unlike Venom, Kraven and Mysterio aren't notable for going on self-contained adventures. Sure they've fought other superheroes besides Spider-Man, but they're not as compelling when on their own. It will be fascinating to see how Sony crafts stories around Kraven and Mysterio without the Webbed Wonder's presence.
As for the rest of the current Spider-Man movie franchise, Spider-Man: Homecoming swings into theaters on July 7, and Venom will be released on October 5, 2018.
Connoisseur of Marvel, DC, Star Wars, John Wick, MonsterVerse and Doctor Who lore. He's aware he looks like Harry Potter and Clark Kent.
Your Daily Blend of Entertainment News
Thank you for signing up to CinemaBlend. You will receive a verification email shortly.
There was a problem. Please refresh the page and try again.