15 Awesome Movies You Need To Watch Before They Leave Netflix In July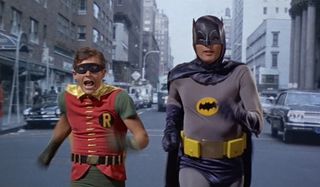 July has certainly given Netflix subscribers a lot to be excited about! But with that excitement, as always, is a tinge of sadness. It's time to look through your queues and see if any of these big-ticket movies are about to leave before you've had a chance to see them. But don't worry too much just yet. These films will be out of the Netflix Instant stratosphere throughout July, so you still have some time to catch up.
Blazing Saddles
It figures that just as we gained Young Frankenstein in the Netflix Instant library, another Mel Brooks classic is making its way out. And whoa boy, is this one a classic. Blazing Saddles truly was a product of its time, as Brooks enlisted the help of both Richard Pryor and Cleavon Little to tell a comedic tale of race relations in a manner that was both painfully true, yet also devoid of a tone deaf note. Though, as Mel Brooks was wont to do, there's also a heap of good old fashioned sight gags, slapstick, and Hollywood ballyhoo. Yes, it's as good as you remember it to be.
Working Girl
In a world where we value shattering the glass ceiling in cinema, the story of Working Girl seems to be one that's rather undersold. Between a who's who of talent you'll remember by face alone, and Harrison Ford at his most charmingly comedic, the film deserves some recognition. But above that is the fact that the film centers around a rivalry between Melanie Griffith and Sigourney Weaver that doesn't devolve into a standard cat fight or argument over a man. Rather, Griffith's Tess fights Weaver's Katharine on the common battlefield of business, and it's a final confrontation well worth the watch.
Hugo
For all of the movies that try to capture "the magic of cinema," Martin Scorsese's Hugo manages to do just that, and then some. Rather than focus on the history of film with the eye of a stuffy academic, Scorsese uses the cipher of Hugo Cabret to delve into the earliest moments of the medium. And for a film that's in love with the movies, it also doesn't forget that it's a part of that very canon, as it injects whimsy and excitement into what could have been a standard literary adaptation. It's safe for kids, but it's boffo for adults as well.
Batman: The Movie
Earlier this month, we lost the late, great Adam West. While his Batman was always relegated as the goof-off, it cannot be denied that West was the only man that could introduce some legit swagger into the Bat-tusi. Batman: The Movie serves as another key piece in the man's bat-legacy, as it's just as colorful and campy as the original series was. And believe it or not, it still holds up frame by frame in the modern context, proving that much like West himself, the film never lost its cool just because the decades have marched on.
While You Were Sleeping
Did you know that a young actress by the name of Sandra Bullock starred in the TV adaptation of, surprise surprise, Working Girl? Should that series have succeeded, she probably would have made her bones on the small screen, and may not have moved onto the career she had in the movies. But, as luck had it, that show flopped, leaving Bullock to eventually wander down the line into two camps of film that would serve her well: action adventures like Speed, and romantic comedies like While You Were Sleeping. With that trademark Sandra Bullock charm, she not only tries to win Peter Gallagher's heart right before an accident puts him in a coma, but she also snags Bill Pullman's affections as well. Admit it, you know this movie by heart.
The Last Samurai
Despite the critical drubbing that The Mummy has taken, the film still proves a very important point: Tom Cruise is at his best when he's given a challenge. When The Last Samurai came along, a challenge was indeed issued, as Cruise made gold out of the role of a Civil War soldier turn alcoholic who is sent to China in order to quell a contingent of samurai. Little does he know, he's about to learn a lesson in heroism that'll change his life forever. With a beautifully lush score by Hans Zimmer, and a breakout performance by Ken Watanabe, The Last Samurai is one of the most underrated films of the first millennial decade. Don't miss your chance to find out why.
Two Weeks Notice
Yes, we were extolling the virtues of Sandra Bullock's romantic comedy prowess earlier, but trust us, this one's worth just as much of your time. Two Weeks Notice manages to take the rom-com formula and turn it into something more restrained, and dare we say even funnier, than most examples of the genre. Bullock's no-nonsense activist / legal professional bounces off of Hugh Grant's child-like nutty funster in such a manner that the chemistry is palpable. And yet, the romance is shown as a gradual falling that doesn't overstay its welcome, allowing some prime laughs to help cement the foundation of adorability the film lays down the whole time.
Hello, Dolly!
While you might find yourself hard pressed to land a pair of tickets to Bette Midler's revival of Hello, Dolly!, you can still enjoy the classic film adaptation before it leaves Netflix this July. Directed by legendary song and dance man Gene Kelly, this film's cast boasts a pedigree that intersects Broadway and Hollywood, as Barbara Streisand, Walter Matthau, and Michael Crawford are the film's three impressive leads. But of course, we'd be remiss if we didn't mention that Louis Armstrong makes an appearance as well, performing the titular showtune in a film version that's a treasure to behold.
Gentlemen Prefer Blondes
This is one of those movies that's so memorable, pieces of it have been borrowed throughout popular culture. If you'd ever wondered where Madonna's "Material Girl" video got its inspiration, or what film enabled Nicole Kidman to sing the virtues of diamonds being a girl's best friend, Gentlemen Prefer Blondes is the source you've been looking for. The 1950's musical stars Jane Russell and Marilyn Monroe, and while the gender politics of the film might be more than a bit outdated, it's one of those movies that jumps past such hurdles and delivers excitement in any day and age.
Kate & Leopold
The rumors are true: Hugh Jackman used to star in movies that didn't require comic book claws or action movie abs. In fact, you probably have some friends that enjoy Kate & Leopold, and you didn't even know it. Though it's hard to resist Jackman's charming Leopold, a man who accidentally comes through a time portal into the modern world of 2001 New York. Co-starring Meg Ryan as Kate, Leopold's object of affection, and Liev Schreiber as the amateur physicist that starts this whole mess, you'll probably be surprised that Kate & Leopold is as endearing as it is. Though the bigger surprise is the fact that the film is directed by the man who would reunite with Jackman for two badass Wolverine films, James Mangold. So yeah... try doubling this with Logan for some interesting results.
The American Pie Sequels
Summer is all about fun, and sometimes fun comes from the most unexpected places. While the American Pie movies had four proper theatrically released films, there are just as many direct-to-video sequels that most people don't know about. While they aren't modern classics, they're still similar to their predecessors in the sense that you could throw these flicks on and have some laughs with your friends. For the curious, three of those films, Band Camp, The Naked Mile, and Beta House, all follow Stifler's younger brother; while Book of Love focuses on a new group of kids. But all four films do contain Eugene Levy, so they at least have that going for them.
El Dorado
No one sells movies like they used to, and El Dorado is one of the best examples of why this is a sad thing. The film ran its ad campaign on the tagline, "It's the big one, with the big two!" Then again, when your movie has John Wayne and Robert Mitchum in it, it's hard to sell it any other way. These two tough hombres are part of a rough and tumble western that involves a good old fashioned land war, and knowing which side is the right side in a conflict. Father's day may have already come and gone, but we can almost guarantee that this would make a good afternoon's worth of entertainment. Beer and pretzels optional.
If you're curious about what's incoming to Netflix Instant this month, here.
Your Daily Blend of Entertainment News
Senior Movies Contributor
CinemaBlend's James Bond (expert). Also versed in Large Scale Aggressors, time travel, and Guillermo del Toro. He fights for The User.
Your Daily Blend of Entertainment News
Thank you for signing up to CinemaBlend. You will receive a verification email shortly.
There was a problem. Please refresh the page and try again.