Watch Spider-Man Scare The Crap Out Of People In A Coffee Shop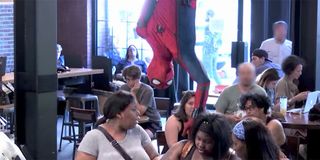 We're only a few short days away from the release of Spider-Man: Homecoming, and marketing for the movie is everywhere at this point. It's apparently even in coffee shops, as a Starbucks in New York City recently became the location for a Spider-Man stunt. You can check out Spider-Man scaring the heck out of customers in the video, below.
The stunt, which comes courtesy of Sony Pictures Entertainment, involves a stunt guy crawling up into a panel that has been constructed into the ceiling of the Starbucks for the fun gag. As the video shows, Starbucks employees call out the names of customers, and occasionally announce a cold brew for Spider-Man, as well. When he hears his name, he pops out of the ceiling and grabs his coffee, to various reactions.
My favorite is the lady who screams early on in the video, terrified of the man in the red and blue suit who popped out of the ceiling. But the reactions to Spider-Man hanging out--get it?--in a Starbucks do vary somewhat. A lot of the women are a little freaked out by the dude, but several dudes bemusedly greet the superhero in the ceiling when he pops out. At another point, Spidey manages to surprise one young lady when he taps her on the shoulder and she looks the opposite way. There are a lot of "fucks" and "shits" that had to be bleeped from the video, and I wonder if Sony was anticipating that before the studio set out to have the stunt taped.
Even with the bleeped out curse words, the Spider-Man video is a fun romp and good publicity for the upcoming Spider-Man: Homecoming. It's not too bad for Starbucks in terms of product placement, either. And really, it's great for us too. Because seeing people freak out is always a fun distraction.
Stick around until the end, because Stan Lee, the creator of Spider-Man, offers yet another Marvel cameo in this fun little video. Expect another Stan Lee cameo when Spider-Man: Homecoming hits theaters on July 7, with Tom Holland in the suit for the big screen adventure. If you'd like to know more about the upcoming Spider-Man: Homecoming, you can check out what we know about the upcoming flick, or take a look at our guide explaining how Marvel and Sony are working together on the brand new project.
Your Daily Blend of Entertainment News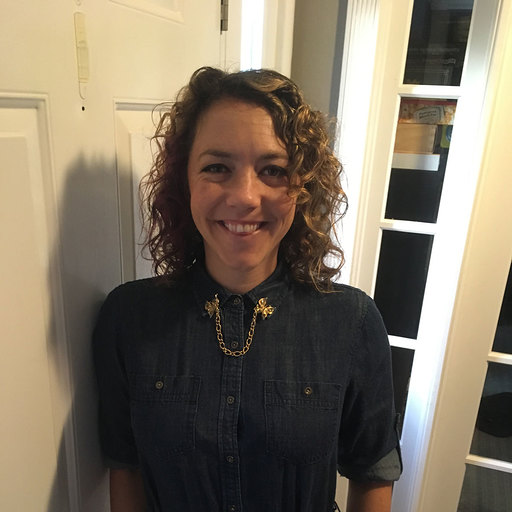 Reality TV fan with a pinch of Disney fairy dust thrown in. Theme park junkie. If you've created a rom-com I've probably watched it.