Why Spider-Man: Homecoming Doesn't Show His Spider Sense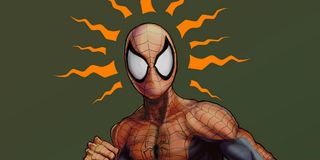 The following story contains very mild spoilers for Spider-Man: Homecoming.
The goal behind the new Spider-Man, the one making his feature-length debut in the Marvel Cinematic Universe with Spider-Man: Homecoming, was to deliver something different. He's a sophomore in high school. He was recruited by an Avenger. And he has a tricked out suit, designed by Tony Stark, that's unlike anything we have seen before. But Homecoming also confirms something that we suspected ever since we saw Captain America: Civil War... Tom Holland's Spider-Man doesn't appear to have a Spider Sense. I asked Homecoming director Jon Watts about it, and he told me:
This has bugged me (no pun intended) ever since Ant-Man (Paul Rudd) was able to get the drop on Spider-Man (Tom Holland) in Civil War. He sneaks along Captain America's stolen shield, and surprises Spidey by growing large and punching him. If Tom Holland's Peter Parker had a traditional Spider Sense, that would have warned him of Scott's impending attack.
As the trailers for Spider-Man: Homecoming played out, and I realized that Tony Stark's modernized Spider-Man suit would have a JARVIS-type intelligence system in it, I began to wonder if that would take the place of the traditional Spider Sense in the MCU. As it turns out, we can now confirm that it was the actions of the previous films that prevented Jon Watts and Marvel from adding a Spider Sense to the arsenal of the web head in the MCU. But they are open to revisiting the concept later on, possibly in Spider-Man sequels.
The directive on almost everything tied to Spider-Man in the MCU is to show audiences something wildly different than they ever saw in the previous five Sony Spider-Man movies. This is the main reason why we are getting the Vulture (Michael Keaton), who is working with ground-level villains such as the Shocker (Bokeem Woodbine) and the Tinkerer (Michael Chernus) to steal from the Avengers. Listen to Jon Watts and Tom Holland discuss the state of Spidey's Spider Sense in Spider-Man: Homecoming:
The action won't stay on the ground level for very long. Spidey (Tom Holland) will be fighting alongside the Avengers when Thanos (Josh Brolin) arrives in Avengers: Infinity War next summer. But then he'll be right back in high school, according to Marvel President Kevin Feige, when the as-yet-untitled Spider-Man sequel hits theaters in 2019. Stay tuned to CinemaBlend for more details on all of the Upcoming Marvel Movies.
Managing Director at CinemaBlend. ReelBlend cohost. A movie junkie who's Infatuated with comic-book films. Helped get the Snyder Cut released, then wrote a book about it.
Your Daily Blend of Entertainment News
Thank you for signing up to CinemaBlend. You will receive a verification email shortly.
There was a problem. Please refresh the page and try again.