How X-Men: Dark Phoenix May Use Magneto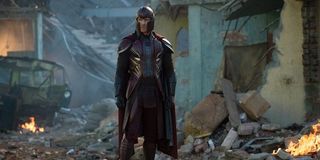 Whether it's Ian McKellen or Michael Fassbender wearing the maroon/purple-colored helmet, Magneto has been one of the X-Men film franchise's most important characters since the series launched in 2000. Fassbender's iteration of the Master of Magnetism will be back in the mix next year for X-Men: Dark Phoenix, but as those who've read The Dark Phoenix Saga know, Erik Lensherr wasn't involved in that original comic book tale. For the new movie adaptation, a new report claims that Magneto's participation will revolve around his new status as a cult leader.
Apparently Magneto will don a new costume in X-Men: Dark Phoenix, and this redesign is meant to suggest "imagery commonly associated with cult leaders." No confirmed details were provided about who he is leading, although given Magneto's comic book history and the movie's early 1990s setting, it seems likely that we'll see the cinematic versions of the Acolytes, who were introduced to the comics in 1991. Nerdist also reports that X-Men: Dark Phoenix will introduce Genosha, the fictional country that enslaved mutants until Magneto took control and established the nation as a safe haven for mutants for many years. If Magneto has indeed gathered followers who ascribe to his ideology, Genosha is likely where they would establish a new home, free from persecution and discrimination.
When we last saw Magneto in X-Men: Apocalypse, he had helped rebuild Xavier's School for Gifted Youngsters, but he didn't stay to help teach the students. Since X-Men movies producer Lauren Shuler Donner said back in March that future movies wouldn't touch on the Charles/Erik dynamic again, as that territory has been well explored over six movies, turning Magneto into a cult leader is an intriguing way to take him down a different path. Even though he turned his back on Apocalypse and prevented the world from being destroyed, Magneto didn't seem like he was ready to help humanity with the new X-Men team when Apocalypse ended. With a horde of followers clinging on to his every word, Magneto could then set up base in Genosha and build a society where mutants needn't worry about being mistreated by humans.
No official plot details for X-Men: Dark Phoenix have been revealed aside from the fact that we'll see Jean Grey be fully taken over by the Phoenix Force, just like in 2006's X-Men: The Last Stand. However, along with this report about Magneto's cult and Genosha, it's also been rumored that aliens could appear, specifically the Shi'ar Empire, which was involved in the original Dark Phoenix Saga. Along with Magneto and Jean Grey, X-Men: Dark Phoenix will see the return of Professor X, Mystique, Beast, Cyclops, Storm, Nightcrawler and Quicksilver.
Directed and written by Simon Kinberg, X-Men: Dark Phoenix will be released on November 2, 2018.
This poll is no longer available.
Your Daily Blend of Entertainment News
Connoisseur of Marvel, DC, Star Wars, John Wick, MonsterVerse and Doctor Who lore. He's aware he looks like Harry Potter and Clark Kent.