What Thor: Ragnarok Will Be Called In Japan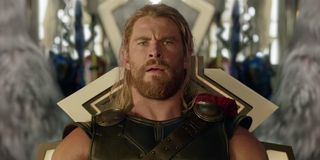 It's difficult to deny that the Thor films have felt somewhat hit or miss in recent years. When compared to Iron Man or Captain America, the demigod Avenger has simply never experienced a legitimately great solo adventure in the Marvel Cinematic Universe. However, that seems poised to change with the upcoming release of Taika Waititi's Thor: Ragnarok. Early glimpses at the film's marketing campaign promise nothing less than an epic, heavy metal journey into the realm of aliens and Norse mythology, and the movie's Japanese poster seems to indicate that Marvel is leaning heavily into the gladiator-style storytelling in overseas markets. Take a look at the Japanese poster below to see "Thor: Battle Royale" for yourself.
If Ragnarok isn't a term people are familiar with in Japan, the shift to "Battle Royale" definitely seems like a logical jump for the studio to make. I have to admit, as much as I love the title Thor: Ragnarok, Thor: Battle Royale would be pretty badass as well. It makes plenty of sense when we stop to think about it. After all, Ragnarok will lean heavily into its loose adaptation of Planet Hulk, and the prospect of Hulk (Mark Ruffalo) and Thor going toe-to-toe in a gladiator arena has become a focal point of the film's marketing campaign. Battle Royale is simple, effective and straight to the point.
That said, the Planet Hulk adaptation only seems to represent one aspect of a much greater story, so it makes sense why Marvel Studios and Taika Waititi have opted for the Ragnarok subtitle. The film's core narrative revolves around Hela's (Cate Blanchett) quest to destroy Asgard, and that's fundamentally the central conflict of the entire movie. Thor's journey to Sakaar to face off against The Hulk and The Grandmaster (Jeff Goldblum) seems to take up quite a bit of the story's runtime, but at the end of the day, it all appears to tie back into a bloody showdown with Hela.
Check out a full trailer for Thor: Ragnarok below for a closer look at Taika Waititi's upcoming Marvel epic!
We really cannot begin to express our sheer excitement for Thor: Ragnarok. The film looks completely different from other solo outings offered up by Marvel Studios in recent years, and it looks like the studio has finally wised up and decided to embrace the character's inherent weirdness (and Chris Hemsworth's underutilized comedic timing). Couple that with the fact that Taika Waititi is one of the best up and coming indie directors in Hollywood, and you're left with a Marvel solo movie that shows an insane amount of promise. Regardless of its title, it's going to be a hell of a ride.
Thor: Ragnarok will blast its way into theaters later this year on November 3. For now, make sure to check out Spider-Man: Homecoming, which is currently in theaters!
Originally from Connecticut, Conner grew up in San Diego and graduated from Chapman University in 2014. He now lives in Los Angeles working in and around the entertainment industry and can mostly be found binging horror movies and chugging coffee.
Your Daily Blend of Entertainment News
Thank you for signing up to CinemaBlend. You will receive a verification email shortly.
There was a problem. Please refresh the page and try again.