Suburbicon Trailer: Watch Matt Damon Get Punched In The Face And More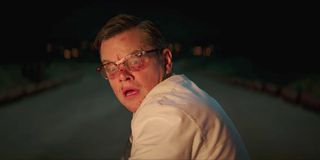 Over the course of his career, Matt Damon has done a phenomenal job of hopping from straight-faced leading characters and delightfully weird caricatures. However, it now looks like one of his next roles will allow him to combine those two ideas into something uniquely compelling. A new trailer for George Clooney's black comedy, Suburbicon, has just debuted online, and it features Damon getting punched in the face -- in addition to dishing out plenty of his own violence. Take a look at the trailer below to see for yourself.
At its core, Suburbicon seems like a complete dissection of the idealized American 1950s. Set in a seemingly idyllic suburban community in 1959, the film follows a man named Gardner (Matt Damon) who finds himself completely immersed (and wholly outmatched) in his town's seedy underbelly. As he dives deeper and deeper into Suburbicon's criminal underworld, he winds up in a life or death battle against a vicious mob boss (Oscar Isaac) while also attempting to maintain his family's picturesque façade as the police start to close in.
The base foundation of the film is quite dark, but Damon puts his (often underutilized) comedic chops on full display. In many ways, Suburbicon feels reminiscent of a Coen Brothers film, which doesn't necessarily surprise us when we consider the fact that they penned the screenplay, and director George Clooney has become a frequent collaborator with the filmmaking duo on films of a similar ilk -- such as Hail! Caesar, Burn After Reading, and Oh Brother, Where Art Thou?.
It also doesn't hurt that the film looks anchored by some seriously phenomenal performances. Matt Damon is obviously the star of the show as a father resorting to violence in order to protect his family, but the supporting characters in the film are nothing to scoff at either. Julianne Moore and Oscar Isaac both appear to be at the top of their respective games in this movie, and the fact that this film will debut in October definitely lends credence to the idea that everyone involved may actually be gunning for an avalanche of nominations when awards season rolls around later this year.
That goes double for director George Clooney, who appears to have nailed the distorted vision of the American heartland in the middle of the 20th century. Clooney has admittedly felt somewhat hit or miss behind the camera in the years since he decided to give filmmaking a shot, but Suburbicon seems to definitely hit that darkly comedic sensibility that he consistently manages to get right.
Suburbicon will debut in theaters later this year on October 27, 2017. Let us know what you think of George Clooney's upcoming directorial effort (as well as Matt Damon getting punched in the face) in the comments section below!
Originally from Connecticut, Conner grew up in San Diego and graduated from Chapman University in 2014. He now lives in Los Angeles working in and around the entertainment industry and can mostly be found binging horror movies and chugging coffee.