The IT Footage Continues To Ramp Up Pennywise's Terrifying Role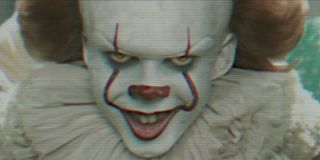 It's clear that horror movies have gone through an unprecedented renaissance over the course of the last few years, and 2017 has been one for the history books. Specifically, the summer season kicked off in grand fashion with the release of It Comes at Night, and the upcoming debut of Annabelle: Creation has already generated a ton of buzz. However, those films pale in comparison to the anticipation for Andres Muschietti's adaptation of IT, and newly released footage from the movie promises a version of Pennywise far scarier than anything we could've ever imagined. Take a look at the clip below to see for yourself.
Remember that episode of Breaking Bad in which Jesse Pinkman refers to Saul Goodman as a "CRIMINAL lawyer" instead of a "criminal lawyer." The same rules apply here. Bill Skarsgård's Pennywise is not just a demon clown; he is a DEMON clown. He can come from anywhere at any time, and he isn't afraid to wave a severed baby arm or chant "kill them all!" on a TV. Beyond that, from this TV spot it is clear that director Andres Muschietti is aiming for a level of terror that feels more in line with the tone of Stephen King's original IT book than the IT miniseries from the 1990s. Don't get me wrong; we love Tim Curry's portrayal of this iconic villain, but 2017's IT wants to make Pennywise an omnipresent and terrifying force of nature, unlike anything that we have ever seen before.
The facet that makes us even more excited (but also somewhat anxious) is the fact that IT is going to be a very long movie -- especially by horror standards. In fact, it was recently revealed that IT will clock in at a staggering, nail-biting 135 minutes of sheer terror. That's astonishing for a modern horror film, and quality that we have seen on full display in our early glimpses at this project seems to indicate that IT will most of those 135 minutes to keep us on the edges of our seats.
Based on Stephen King's book of the same name, IT centers on a group of kids called The Losers Club in Derry, Maine in the 1980s. Following the disappearance of a young boy named Georgie, The Losers eventually begin to suspect that something is not quite right in their seemingly idyllic town. As they dive deeper and deeper into the mystery, they find themselves forced to stick together as they enter into a battle of life or death against Pennywise -- the malignant sewer-dwelling entity who takes the form of a terrifying clown.
IT (and by extension, Pennywise) will scare its way into theaters later this summer on September 8. As for the rest of the film's set to debut this year, make sure to take a look at CinemaBlend's 2017 movie premiere guide!
Originally from Connecticut, Conner grew up in San Diego and graduated from Chapman University in 2014. He now lives in Los Angeles working in and around the entertainment industry and can mostly be found binging horror movies and chugging coffee.
Your Daily Blend of Entertainment News
Thank you for signing up to CinemaBlend. You will receive a verification email shortly.
There was a problem. Please refresh the page and try again.