We Will Finally Know What Happened After My Cousin Vinny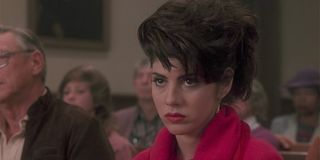 More than two decades after the acclaimed courtroom comedy hit theaters, the characters from My Cousin Vinny are set to return, only this time it will happen on the printed page. Author Lawrence Kelter has revealed plans for Back to Brooklyn, a new novel that continues the adventures of Vinny Gambini and Mona Lisa Vito (played onscreen by Joe Pesci and Marisa Tomei, respectively).
Back to Brooklyn, published digitally in May, picks up shortly after the events of the 1992 film and finds Vinny and Mona coming to the aide of a young woman accused of murdering her boyfriend. Although Back to Brooklyn begins just after My Cousin Vinny, the new story nevertheless updates the setting to present day. Lawrence Kelter explains the decision in the new book's forward:
Back to Brooklyn isn't the only return to the world of My Cousin Vinny that Kelter has planned, either. A follow-up novel, titled You Should Know, is slated for release in 2018. Planned as My Cousin Vinny: The Book Series, Larry Kelter and Dale Launer have high hopes for even more installments, likening the leads to the stars of The Thin Man franchise (which itself spawned five theatrical sequels and a television series):
While the time-jump makes an effort to preserve the film's characters, it does throw a wrench in any potential big screen effort. While doing press for Spider-Man: Homecoming, Tomei recently commented that she has always wanted to do a My Cousin Vinny sequel. If a sequel were to be planned based on these new books, however, Marisa Tomei and Pesci have effectively been aged out of their iconic roles and may not be able to participate in a sequel. Joe Pesci actually announced his retirement from acting in 1999, but he's set to return to the big screen soon as part of the cast of Martin Scorsese's The Irishman.
The original My Cousin Vinny, written for the screen by Dale Launer and directed by Jonathan Lynn, offered a cultural clash in the courtroom as Pesci's Brooklyn lawyer traveled to rural Alabama to defend his younger cousin from a murder charge. The film earned Marisa Tomei an Academy Award for her memorable performance as Vinny's brash girlfriend, who found herself taking the stand as an automotive expert. We'll have to see how this next set of adventures works out.
Are you interested in the continuing stories of Vinny Gambini and Mona Lisa Vito? Do you like the time-jump idea or would you rather catch up with them 25 years later?
This poll is no longer available.
Your Daily Blend of Entertainment News
Thank you for signing up to CinemaBlend. You will receive a verification email shortly.
There was a problem. Please refresh the page and try again.