The IT House Is Open For Visitors, And It's As Scary As You'd Hope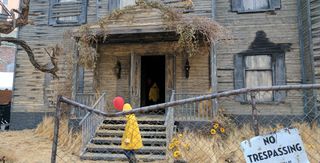 While not featured in the television version of IT from 1990, the Neibolt House is a key location in both Stephen King's novel and director Andres Muschietti's new film. To put it bluntly, it is a true house of horrors, completely abandoned and creepy from the outside, and featuring endless terrors courtesy of the titular monster within. For decades it has been kept as a part of fiction, existing primarily to terrify the members of The Losers Club -- but now, courtesy of the folks at Warner Bros., it has been made all too real.
The studio behind IT has officially opened the doors for The IT Experience: Neibolt House Hollywood, a full-size recreation of Stephen King's notorious haunted estate that has been constructed at the corner of Hollywood and Vine in Los Angeles, California. The area is swarming with actors wearing yellow slickers and carrying red balloons playing "Georgie," the young boy who is killed at the very start of the story, but that bit of creepiness doesn't hold a candle to the scares that await visitors inside the seemingly dilapidated building. I know this because while the pop-up event is now open to the public, I got a special tour of it last night.
The tour of the Neibolt House begins at the front door, as one of the aforementioned Georgie actors asks your group of seven to follow him inside of the house (Note: your instincts/familiarity with IT should tell you not to do it, but in the name of entertainment it's for the best to follow Georgie's instructions). Once inside, you're brought up a spiral staircase, and you realize that the tour is not wasting any time is properly trying to freak you out, as you enter a room filled with clown dolls -- similar to what's been featured in the film's trailers. As if that didn't already put you on edge, the experience is heightened with random popping sounds, an opening coffin, and a few other major surprises.
That particular room does actually exist in the Neibolt House in IT -- but that wasn't true for every station, as many just featured recreations of the story's scariest scenes. For example, after escaping from the clowns you find yourself in the Denbrough Garage, where you are greeted with a bit of children's programming demanding that you "Kill them all." It's after that that the far wall is illuminated by a slideshow. At first they simply look like Dengrough family pictures -- with Bill (Jaeden Lieberher), Georgie (Jackson Robert Scott) and their parents on vacation and during special events -- but it isn't long before you realize that the images have become infected by Pennywise.
Without giving away everything about the experience, the Neibolt House is absolutely a frightening and loving tribute to a beloved horror story, with all of the rest of the rooms in the building being wonderful recreations of notable scenes (brought to life with some deft, creative engineering). Even as one who isn't prone to being scared at haunted houses, the twenty-minute tour through the IT story legitimately made me jolt a handful of times. My particular favorite moments include being forced to pick between one of three "scary" doors (I found myself making the worst possible choice overall), but Beverly's blood-soaked bathroom and seeing Pennywise attack from a drainpipe were wonderfully rendered as well.
If you live in or around Los Angeles, or plan to be in the area in the next few weeks, the good news is that you don't have to just read about The IT Experience - you can have a go for yourself. Entry is entirely free, and the doors are open from 1pm to 11pm every day between August 14th and September 10th (I would definitely recommend going after sundown, but there's no light getting into the Neibolt House either way). To go, all you need to do is make a reservation at the event's official website, ThatsWhereItLives.com. You do have to be 18 or older, and it's definitely not for the faint of heart.
For those who can't make it out to L.A. for the pop-up experience, the good news is that the wait for IT is almost over. The film will arrive in theaters nationwide on September 8th -- and given that it's one of CinemaBlend's most anticipated titles of the fall, be sure to stay tuned on the site for all of our coverage!
Want to see video footage from INSIDE the IT house? Head to the next page.
NJ native who calls LA home; lives in a Dreamatorium. A decade-plus CinemaBlend veteran; endlessly enthusiastic about the career he's dreamt of since seventh grade.