The Florida Project Trailer Is Beautiful And Uplifting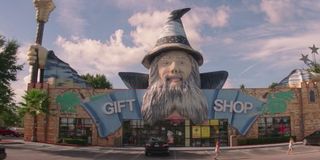 At what point in film history was it determined that Willem Dafoe would largely be used by storytellers to play villains, psychopaths and demons. Granted, Dafoe isn't pigeonholed into these parts -- and the actor does accept the roles, so something in those turns speaks to him. But then something like The Florida Project comes along and reminds us of just how many sides Dafoe has as a performer. Give the first trailer for this Cannes sensation a spin and get ready to fall for a softer Dafoe (as well as his adorable costar):
The Florida Project is reintroducing itself to movie-going crowds after scoring critical acclaim at the Cannes Film Festival earlier this year. And this first trailer for Sean Baker's drama shows off the films quirky charms. What do you expect from a movie set in the unpredictably eccentric state of Florida, where sunshine and tourism collide with a depressed economic reality and several colorful characters stand at a crossroads. If you've ever vacationed in Florida, you might not have experienced the slice of life that's captured by Baker's wandering lenses. But drift off of the property at Walt Disney World in Orlando and you'll immerse yourself in the backwoods artificiality of the Sunshine State.
And yet, The Florida Project looks to be about more than that. Centering its attention on young Moonee (Brooklyn Prince), the film discusses a recognizable childhood experience -- ice cream, small adventures with close-knit friends -- set against the backdrop of an unconventional location. And it's there that the movie starts to get interesting. Willem Dafoe shines as Bobby, a motel manager who takes a passing interest in Moonee's upbringing when it appears that her mother (Bria Vinaite) is failing the child. To what extent will he intervene? Will he do more harm than good?
A24 released a new poster for the movie, as well. Check it out below:
Sean Baker is coming off the experimental and interesting Tangerine, a movie pushed by Magnolia Pictures in 2015 that turned heads for its humanistic approach to a rough story about a hooker searching for her pimp on Christmas Eve. The Florida Project appears to be a hard left turn into wildly different material, and yet, it looks to wear its heart on its sleeve by weaving yet another relatable narrative with powerful actors willing to portray people that we might know from our own inner circles... as difficult as that might be to admit.
The Florida Project is heading to the Toronto International Film Festival in September, before making its way to movie theaters on October 6. Be sure to visit our Movie Release Schedule to keep up to date on when movies like The Florida Project will be opening in a theater near you.
Managing Director at CinemaBlend. ReelBlend cohost. A movie junkie who's Infatuated with comic-book films. Helped get the Snyder Cut released, then wrote a book about it.
Your Daily Blend of Entertainment News
Thank you for signing up to CinemaBlend. You will receive a verification email shortly.
There was a problem. Please refresh the page and try again.