One Clever Decision Doug Liman Made To The Wall To Make It More Intense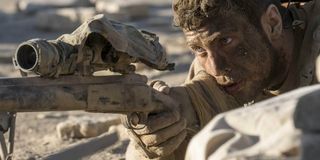 Watching a movie is a full-bodied experience. It's not just the story that a director places in front of audiences; it's also a matter of conveying something that affects the senses. Sometimes that means overloading a sense, and other times it means removing something that most other films would typically use. In that regard, I recently had the chance to ask Doug Liman why he chose to make The Wall (which hits shelves on Blu-ray and DVD today) with no musical score or soundtrack, and he explained that it helped create an authentic sense of intensity that music would've ruined. Liman elaborated:
Although conventional wisdom would typically suggest that a sweeping Hans Zimmer-esque score would add to the intensity of a given scene (which can work, in the case of a grandiose war movie like Dunkirk), that's not what Doug Liman wanted for The Wall. To generate the realistic intensity of two snipers facing off against one another, Liman kept the film completely devoid of music, which ultimately helped establish a sense of isolation and seclusion in the middle of the desert. After all, real soldiers don't hear music when they're pinned down by enemy gunfire, so John Cena and Aaron Taylor-Johnson's characters wouldn't either.
The reason Doug Liman was ultimately able to get away with this creative decision was likely because he made The Wall on a relatively leaner budget than the average Hollywood movie. Cheaper movies tend to give studios and filmmakers more flexibility to take risks (as they have to earn less money to become profitable), which means a bigger tentpole blockbuster may not have the opportunity to try something quite so bold. In fact, elsewhere in our conversation, Liman told me that he had wanted to try this technique when he made 2005's Mr. and Mrs. Smith, but that film's substantially larger budget prevented him from being able to do so. Once he was able to get his hands on a smaller scale $3 million movie like The Wall, he was able to give it a shot. Now that we have seen the film, we can definitely say that it paid off.
The Wall is now available on Digital HD, DVD, and Blu-ray. Make sure to pick up your copy today and check out our 2017 movie premiere guide for more information on the rest of 2017's major theatrical releases!
Of course, a lack of music is one of many storytelling elements that make The Wall the intense thriller that it is. Check out an exclusive behind-the-scenes clip on the next page for a closer look at how Doug Liman and the film's crew got Aaron Taylor-Johnson in the zone on the movie's set.
Originally from Connecticut, Conner grew up in San Diego and graduated from Chapman University in 2014. He now lives in Los Angeles working in and around the entertainment industry and can mostly be found binging horror movies and chugging coffee.
Your Daily Blend of Entertainment News
Thank you for signing up to CinemaBlend. You will receive a verification email shortly.
There was a problem. Please refresh the page and try again.