Watch Hans Zimmer's Inception Soundtrack Played Live At Coachella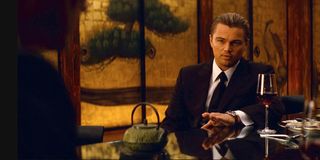 With almost 200 composing credits to his name, Hans Zimmer has become one of Hollywood's go-to sources for bombastic and enthralling film scores. His work on The Dark Knight trilogy, Gladiator and Interstellar have become iconic in the years since those films debuted, but his work on Christopher Nolan's Inception is arguably his greatest musical effort to date. The legendary composer recently took the stage at Coachella over the weekend, and as you can probably expect, his beautiful Inception melodies were on full display. Check out the video from the event below to see for yourself.
Coachella is typically known for indie rock, EDM and hip hop performances, but that video of Hans Zimmer's beautiful Inception score makes it instantly clear that he is a welcome addition to the famous music festival. There's a certain rawness to the music when it is performed live that isn't necessarily conveyed on a pre-recorded track, and the Inception soundtrack comes to life when it is belted out in front of a live audience. Seven years after the film debuted, the music continues to make a profound impression on movie buffs and music aficionados alike.
There's a real underlying genius to the inception soundtrack that only begins to make itself apparent upon repeat viewings. One of the most particularly fascinating aspects of the film is the way in which Hans Zimmer used the in-universe rules established by the characters to structure the musical beats. Specifically, many of the cues from the Inception score sound like slowed-down sections of Edith Piaf's "Non, Je Ne Regrette Ren," which is the song used by the film's protagonists to initiate a "kick" and wake themselves up from a dream -- thus mirroring the distortion of time that plays a central role in Inception's narrative.
Don't believe me? Check out a comparison of the inception score with Piaf's song below:
The cinematic legacy of Inception is one that really cannot be overstated. Christopher Nolan's trippy dream-based thriller made a serious impression on audiences when it debuted in the summer of 2010, garnering an impressive $292 million domestic box office gross and an 86% Fresh rating on Rotten Tomatoes. That performance becomes even more impressive when we dive deeper into the film and remember that it is not a tentpole franchise film or even a traditional summer blockbuster. Sure, it was packed with some solid action sequences, but for a movie, the fact that this cerebral and weird flick played as well as it did with audiences was nothing if not impressive.
Ultimately, I think we can attribute much of that success to the consistently fantastic collaboration between Christopher Nolan and Hans Zimmer. They have worked together on numerous films over the years, and they seem to have found an amazing synergy in their visual and audible creations. With Nolan's highly-anticipated WWII thriller Dunkirk set to make its debut this summer, we can only assume that this marriage of filmmaking and songwriting will become even stronger.
You can catch Hans Zimmer's next major collaboration with Christopher Nolan when Dunkirk makes its theatrical debut later this year on July 21.
Originally from Connecticut, Conner grew up in San Diego and graduated from Chapman University in 2014. He now lives in Los Angeles working in and around the entertainment industry and can mostly be found binging horror movies and chugging coffee.
Your Daily Blend of Entertainment News
Thank you for signing up to CinemaBlend. You will receive a verification email shortly.
There was a problem. Please refresh the page and try again.