That One Time Ryan Phillippe Punched Sarah Silverman In The Face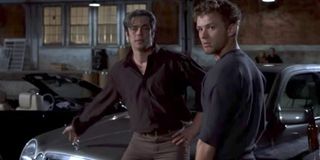 Movie sets can be unintentionally dangerous locations. A-listers like Tom Cruise get injured performing stunts on Mission: Impossible sequels. Stunt people risk their lives and, in tragic situations lose their lives because of miscalculations. And on more occasions than they probably care to admit, actors get punched in the face filming fight sequences, as when Sarah Silverman took a right-hander square in the eye from Ryan Phillippe while filming Christopher McQuarrie's directorial debut The Way of the Gun back around 1999. As Silverman now remembers it:
It sure looks like they used it. If you haven't seen Christopher McQuarrie's debut film The Way of the Gun, it's a gripping and harrowing story about two criminals (Ryan Phillippe and Benicio Del Toro) who get in way over their heads when they kidnap a woman with powerful criminal ties. The movie's best known for McQuarrie's use of sound. When you sat in a theater for The Way of the Gun, the actual sound of the guns going off in the numerous gunfights was DEAFENING. But the movie also has one of the most memorable opening scenes in modern-movie history, where Sarah Silverman berates Phillippe's character outside of a nightclub, forcing him to finally haul off and deck her.
Watch the scene in full down below. Fair warning. If there's a Guinness Book of World's Records for the number of "fucks" used on one scene, this sequence wins. Sarah Silverman is VICIOUS to Ryan Phillippe in this scene. It might help explain why he actually connected with her while they were filming it:
The odd thing about The Way of the Gun is that it was poorly received, and while Christopher McQuarrie was coming off of The Usual Suspects (which he wrote, for Bryan Singer to direct), this movie stalled his directing career until he tried again with Jack Reacher in 2012. That movie was such a hit, it earned McQuarrie the directing gig on Mission: Impossible: Rogue Nation and, now, Mission: Impossible 6.
Sarah Silverman and Ryan Phillippe have had varying degrees of success on the silver screen. They never really broke out. But they've never lacked for work. I wonder what Phillippe remembers about his side of this Way of the Gun title card bout? It's brutal, no matter which way you slice it, so I'm glad Silverman, who shared this anecdote with EW, now says it was worth it to land the proper take.
Managing Director at CinemaBlend. ReelBlend cohost. A movie junkie who's Infatuated with comic-book films. Helped get the Snyder Cut released, then wrote a book about it.
Your Daily Blend of Entertainment News
Thank you for signing up to CinemaBlend. You will receive a verification email shortly.
There was a problem. Please refresh the page and try again.