When Super Troopers 2 Is Fittingly Hitting Theaters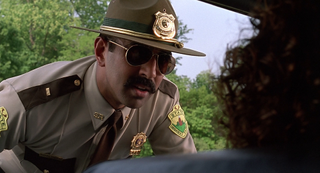 It's been 16 years since we last saw the Vermont State Troopers bust heads on the highway, but the Super Troopers are about to come back in a major way. Fans have waited to see the latest adventure of this band of misfit cops for the better part of two decades, and meow (you read that right) the franchise will finally return on the best possible day. Get ready to swallow an entire bag of mushrooms and smoke all of your weed, because Super Troopers 2 has officially landed on the incredibly poetic release date of 4/20, 2018. Mother of God!
We can't honestly say that we're surprised by this development. Broken Lizard typically excels in all manner of R-rated comedy, which means going all in on sex, foul language and extreme silver screen substance abuse. Given the fact that 4/20 falls on a Friday (the day most movies typically hit theaters) next year, it only makes sense for Super Troopers 2 to embrace that idea. Are they encouraging you to get high before you see their long-awaited sequel next April? Not necessarily. That said, are they leaning into it? Delightfully so.
Although it's certainly encouraging that we now know when Super Troopers 2 will hit theaters, this specific release date also raises questions about another long-awaited Broken Lizard project. While 2006's Beerfest wasn't a critical or commercial smash when it debuted, the film has since gone onto achieve a substantial cult following among comedy/beer enthusiasts. The final scene of that movie teased a follow-up adventure alongside Willie Nelson (tentatively titled Potfest), and the Broken Lizard guys have continuously teased the sequel in the years since Beerfest first premiered. As of right meow (I can't help myself), there is no concrete confirmation as to whether or not we will see Potfest, but the success of Super Troopers 2 could go a long way towards proving Broken Lizard's sequel chops.
Of course, when we consider all of the fan enthusiasm for a second Super Troopers movie (as well as the possibility of a Beerfest sequel), it's worth acknowledging that the Broken Lizard guys arguably have an uphill battle ahead of them. We've previously spoken at length about the fact that comedy sequels often tend to fall flat -- see Zoolander 2, Bad Santa 2, Dumb and Dumber To, the list goes on. This effectively creates a double-edged sword for Super Troopers 2, as the film will premiere to a mountain of hype, but it also has the chance to defy traditional comedy sequel expectations. We don't know what to expect, but if Farva, Ramathorn and the rest of our favorite cops bring all of the zany shenanigans that they brought to the first film, then we have plenty to get excited about.
As far as the story goes, it looks like Super Troopers 2 will embrace what makes the first one work instead of trying to reinvent the wheel. The sequel will once again focus on Thorny, Mac, Farva, Foster and Rabbit as they find themselves enlisted to patrol a stretch of the border contested by America and Canada. The film's script is a collaboration between all of the Broken Lizard guys, and Jay Chandrasekhar is once again stepping behind the camera to direct the project.
Super Troopers 2 will hit theaters on April 20, 2018. As for the rest of the films set to debut in 2017, make sure to take a look at CinemaBlend's comprehensive movie premiere guide!
Your Daily Blend of Entertainment News
Originally from Connecticut, Conner grew up in San Diego and graduated from Chapman University in 2014. He now lives in Los Angeles working in and around the entertainment industry and can mostly be found binging horror movies and chugging coffee.