Why Chris Pratt And Anna Faris May Have Actually Split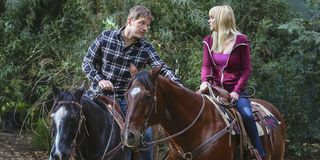 The exact reasons behind Anna Faris and Chris Pratt's shocking separation remain unclear. However, sources close to the couple have revealed alleged details. Apparently, it boils down to Faris and Pratt wanting different things for their family.
As TMZ tells it, Anna Faris has a different vision for her life. When Faris met Chris Pratt in 2007, she was the bigger of the two stars. Now the tables have turned. While Faris might be steadfast in her support of Pratt's success, she supposedly has trouble dealing with his endless work schedule, and she wishes they had a more conventional family dynamic that allowed her husband to be home once in a while (instead of almost never).
Some of Anna Faris' and Chris Pratt's followers on social media wondered if the breakup happened because of the shift in fame. While that seems like a patronizing and trite oversimplification of wildly complicated circumstances, it stands to reason Pratt's rise to astronomical fame was a contributing factor behind the parting of ways. If Pratt were still at his Parks and Recreation level of success, he might have more time to spend at home. But in reality, he has Guardians of the Galaxy and Jurassic World fame, and he has to travel around the world again and again for filming and promotions.
In the past, Anna Faris traveled great distances to spend time with Chris Pratt on the road and make sure he could get in quality time with their four-year-old son, Jack Pratt. Meanwhile, Faris has a hectic work schedule all her own. For example, Faris has been filming the CBS sitcom Mom and the Overboard remake while promoting The Emoji Movie. The complexity of juggling her career with Chris Pratt's never-ending calendar as the lead in two blockbuster movie franchises might have been too much to handle.
Now, some people on social media wondered if one Anna Faris' or Chris Pratt's costars provoked the split. For example, some followers tried to implicate Jennifer Lawrence, Chris Pratt's Passengers costar, as a cause of the breakup. But let's be clear: there are no confirmed reports of infidelity or negative stories of this kind. From the sounds of it, the whole breakup happened because of busy schedules and the inability to spend enough time with each other, and with a young child in the mix, Faris and Pratt want to do what is best.
Speaking of children, Chris Pratt supposedly does not want more kids at this time because his schedule is much too busy. On the other hand, Anna Faris wants more children. So, that aspect might be one of the crucial issues, too.
Reportedly, the divorce proceedings are underway, which has Anna Faris and Chris Pratt devastated. Regardless, the sources close to them say their commitment to being great parents is unwavering, and they plan to move forward in as friendly a way as possible. Whatever happens, we'll be following along and rooting for both stars.
Your Daily Blend of Entertainment News