10 Awesome Movies You Need To Watch Before They Leave Netflix In September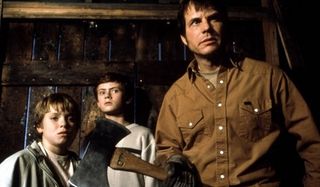 As it has been written in the Sacred Book of Streaming, the content provider giveth, and yet they taketh away. Well, we've seen what Netflix has already deemed to giveth to us all throughout September, so now it's time to see what's up for the taketh part of the bargain. And trust us, there's some really good movies on here, some would have even been good for Halloween. So if you're in the mood to celebrate early, this list is your friend. But even if you're not in the mood for some early scares, there's a couple flicks on here worth your time and attention.
The Omen
Movies like The Omen are classics for a reason, despite the popular level of parody they've received over time. You might be inspired to laugh because so many gags about demon children and ominous choirs have been had by now, but if you look past that, Richard Donner's horror classic is still stylish and spooky as hell. Gregory Peck and Lee Remick love each other so damned much in this movie, and they love their little Damien as long as they can, before succumbing to the truth. It's that gradual fade into reality that really drives this flick home, and it holds up like nobody's business.
Something's Gotta Give
Jack Nicholson and Diane Keaton doing a romantic comedy together is something that should have happened a lot more throughout the course of Hollywood history. At least, that's what it feels like after watching them effortlessly play off of each other in Something's Gotta Give, which is already somehow 14 years old! The film certainly plays just as well as it did on day one, as it succeeds in a lot of places a typical rom-com tends to fail through. The entire cast is engaging, there's no falsely engineered conflict that stretches the film's credibility, and ultimately Nicholson's character is put on a journey of self-discovery that rings pretty true. It's fun, it's cute, and it's a great farewell to summer.
A Nightmare on Elm Street
Man, who was put in charge of removing Netflix movies in September? Whoever decided A Nightmare on Elm Street should be taken out before Halloween even goes into full swing should be reprimanded. Or at the very least, have their account restricted to Kids Only mode for the month. Nightmare launched the slasher franchise that made Wes Craven a household name, and Freddy Krueger a cultural icon, so obviously it's perfect fall viewing. Only, it's not going to be here in the fall, so you'd better watch it now while you can.
Frailty
This year, we lost two titans of character acting talent: Bill Paxton and Powers Boothe. And both of those men are in full form in Frailty, the film directing debut of Paxton, which also found some space to make Matthew McConaughey a little more familiar to the world. A horror film that relies on atmosphere and performance, Frailty is one of the most underrated favorites of even the genre's most ardent fans, and it's earned its reputation in spades. With Paxton as the father that teaches his sons to supposedly fight evil, McConaughey as the son spinning the story, and Boothe as the FBI agent who's taking it all in, these three roles hold up a world of demons and trouble in a film that's always deserved a couple more soldiers in its army.
Scream
As if Wes Craven helping kickstart horror films in the 80's wasn't enough, the man also helped deconstruct the house he built in the 1990's. With Scream, audiences that were well versed in the methodology of their favorite screen killers found themselves in for a treat, as a smart-assed movie took those traditions and subverted them with a deft touch. Not to mention, it was the movie that basically reinvigorated horror, as the fact that such a functional parody of the standard "rules" of the game forced anyone who wanted to make their way in the world of the scary think twice before writing the words "I'll be right back." Try to remember the rules as you take this one for a last spin on Netflix.
Hope Floats
Believe it or not, there was a time when Sandra Bullock was considered the up-and-coming queen of both romantic comedies and dramas. While she leaped over that fence and became Hollywood royalty, regardless of genre, Hope Floats is still evidence to that time when America's Sweetheart was just getting started. What helps this film stand out in her early filmography though is her chemistry with one Harry Connick Jr., who easily shines alongside Bullock as her love interest. Here's hoping those two can make another film like this one at some point in the future, because Hope Floats really makes a good case for making it happen.
Lilo and Stitch
While we're getting some Disney favorites back onto Netflix this month, through the returns of Mulan and Hercules, we're sadly losing another one of the Mouse House's titles to the vault, Lilo and Stitch. A franchise that spawned two sequels and a TV series, and somehow never ruined itself, the story of a little girl and her alien is a film that ranks up there with Disney royalty. What's better, it was one of the final films in Disney animation's pre Princess and the Frog era that was hand animated, and it shows in each frame. Beautiful in message and visuals, flip this one on for your kids after a night barbequing in the backyard.
Sweeney Todd: The Demon Barber of Fleet Street
There's one big admission that has to be made about Sweeney Todd: The Demon Barber of Fleet Street: if you're a fan of the original, you'll probably have some bones to pick with the film. But put those aside for a moment, and hear us out, because this dark gem of a musical still deserves a place at the table. The fact that a major studio let Tim Burton even dream of making this movie is a miracle in and of itself, but the fact that it worked is a bigger feat in and of itself. Plus, Johnny Depp and Helena Bonham Carter were in the middle of their hot streak together under Burton's direction, and it shows. But if you need that one big draw to pull you into the world of murder and meat pies, let it be this: you get to hear Alan Rickman and Sacha Baron-Cohen sing, and they're pretty damned good, too.
Philomena
Steve Coogan and Judi Dench are one of the best comedy teams in the recent history of film, and Philomena is the absolute proof of this fact. With Coogan's snark and Dench's wide-eyed deadpan, the true story of a journalist trying to help a woman find her son has a huge streak of good natured humor between the two sides of the aisle. And yet, when it comes to the dramatic and emotional moments, both performers gamely portray the heartbreak and uncertainty that such a quest comes with. While it was lost in the best picture nominated shuffle in the same year that saw Argo take the top honors, Philomena deserves an audience, if anything to see just how much you can do with two really good actors and a simple story of reunion.
Déjà Vu
Tony Scott and Denzel Washington is a combination that always worked, and it's been proven time and again over the several times they worked together. And yet, Déjà vu is probably one of the movies that tends to find itself slotted behind the obvious double feature of awesome that is Crimson Tide and Man on Fire. Not only does this movie bring the typical pulse pounding action and humor that the two collaborators loved to bring to their projects, it works with a pretty novel sci-fi concept that works. It also helps that while Déjà vu is technically sci-fi, that portion of the story doesn't overtake the seriously crafty action beats. If you've missed this one, and you're a fan of either Scott or Washington, then you owe it to yourself to correct that immediately.
CinemaBlend's James Bond (expert). Also versed in Large Scale Aggressors, time travel, and Guillermo del Toro. He fights for The User.
Your Daily Blend of Entertainment News
Thank you for signing up to CinemaBlend. You will receive a verification email shortly.
There was a problem. Please refresh the page and try again.