Ryan Reynolds Released A Statement After The Tragic Deadpool 2 Set Death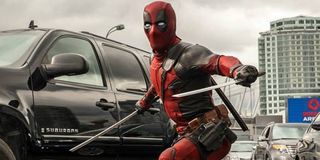 Tragedy struck the set of 20th Century Fox's Deadpool 2 this morning when a motorcycle stunt went wrong and claimed the life of a stuntwoman. Following a statement from the studio earlier today, leading man Ryan Reynolds took to Twitter to share his condolences, saying:
Still publicly unidentified out of respect to the victim's family, the Deadpool stuntwoman Ryan Reynolds wrote about on Twitter lost her life while filming a high speed sequence near Vancouver's Jack Poole Plaza. As previously reported, it is believed that she was serving as a stunt double for Zazie Beetz, who is playing the luck-altering mutant Domino in the Merc with the Mouth's next cinematic adventure.
Today's incident is, unfortunately, not the only stunt-related tragedy to make recent headlines. Last month, The Walking Dead stuntman John Bernecker was killed during a fall while shooting the hit AMC series. Then, just this past weekend, leading man Tom Cruise was injured while filming a sequence for Mission: Impossible 6. Thankfully, in the case of Cruise's injury, no loss of life was involved.
Ryan Reynolds is no stranger to stuntwork himself, having suffered some particularly heavy injuries during the filming of Daniel Espinosa's 2012 thriller Safe House. Just last month, the star recalled a doctor's visit that led to his decision to not perform his own stunts anymore.
Deadpool 2 is being helmed by David Leitch. Leitch himself has worked with Hollywood stunts for more than two decades and, alongside Chad Stahleski, owns and operates 87eleven Action Design, one of the industry's premiere stunt choreography studios. Leitch and Stahleski both broke out as directors co-helming 2014's John Wick. Stahleski went on to helm the recent John Wick: Chapter 2, while Leitch made his solo debut directing Charlize Theron in Atomic Blonde.
Scripted by the returning Rhett Reese and Paul Wernick, Deadpool 2 will star, in addition to Ryan Reynolds and Zazie Beetz, Josh Brolin as Cable, Jack Kesy as the main villain, Shioli Kutsuna and Julian Dennison, as well as the returning Leslie Uggams as Blind Al, Morena Baccarin as Vanessa, Brianna Hildebrand as Negasonic Teenage Warhead, Stefan Kapicic as Colossus and T.J. Miller as Weasel. Look for it to hit the big screen on June 1, 2018.
Well before Deadpool 2 arrives, however, Ryan Reynolds can be seen on the big screen in this Friday's action comedy, The Hitman's Bodyguard. In that flick, he's paired with Samuel L. Jackson in a story that sets Reynolds as a bodyguard tasked with getting Jackson's fun-loving international assassin to trial.
Your Daily Blend of Entertainment News