Girls Trip 2? Here's What We Know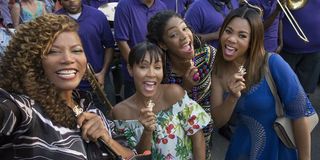 Released just last month, director Malcolm D. Lee's R-rated comedy Girls Trip has put up impressive numbers at the box office, already surpassing $120 million worldwide. With bank like that, it's easy to imagine another reunion could be on the way for the "Flossy Posse" - and it looks like that is something likely going into motion. Producer Will Packer says that discussions have already started about bringing back Tiffany Haddish, Regina Hall, Queen Latifah and Jada Pinkett-Smith for another adventure. Packer recently said,
Will Packer, who shared those word with Vulture, is no stranger to comedy sequels. He produced Think Like a Man Too in 2014 and Ride Along 2 in 2016. While both proved to be hits at the box office, neither follow-up quite managed to make as much as its respective original. Director Malcolm D. Lee has had a bit more luck in the sequel department, however. His 2013 The Best Man Holiday brought in $72 million, more than twice the total earned by his 1999 original. At the end of this year, Lee will conclude his trilogy with The Best Man Wedding.
Still playing in theaters, the first Girls Trip follows Tiffany Haddish, Regina Hall, Queen Latifah and Jada Pinkett-Smith as a quartet of old friends who have grown apart in recent years. In an effort to reconnect, they plan a group trip to the Essence Music Festival in New Orleans. It is there that a variety of unexpected developments test the Flossy Posse's ability to trust one another, threatening to tear apart the close mutual friendship that they all once cherished.
Since it's just not the Flossy Posse without Girls Trip's central quartet, the big issue in figuring out Girls Trip 2 becomes the Trip part. New Orlean's Essence Music Festival fit so perfectly with the plot of the first film because the event, like Girls Trip itself, is about celebrating African American women. As of 2016, though, the Essence Festival has gone international with a new annual event in Durban, in the South African province KwaZulu-Natal. Why not have the Flossy Posse go on an international Girls Trip next time?
Then again, a sequel to Girls Trip may not be something to rush into right away. A big part of what worked about the first film was the fact that the central characters had grown apart over time. It might be better to let a potential Girls Trip franchise lie fallow for a bit. After all, Malcolm D. Lee's The Best Man Holiday took 14 years to become a reality. It may be that time will only strengthen an audience for Girls Trip 2, especially as the film finds new eyes through its home entertainment release.
Girls Trip hits digital October 3rd before debuting on Blu-ray and DVD October 17.
Your Daily Blend of Entertainment News