How The Hulk Ended Up On Sakaar In Thor: Ragnarok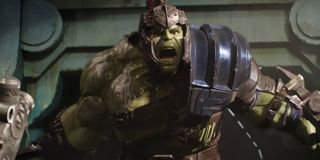 We've known for quite some time that Thor: Ragnarok will team the titular hero up with The Incredible Hulk, thus marking his first appearance in the Marvel Cinematic Universe since The Avengers: Age of Ultron. However, many fans have wondered exactly how Hulk ended up on Sakaar in the time between Ultron and Ragnarok. As it turns out, the Quinjet he commandeered at the end of the last Avengers film flew through one of the many wormholes that orbit Sakaar, marooning him on the gladiator planet. While I waas attending a Marvel set visit, Ragnarok production designer Dan Hennah opened during a roundtable discussion and said:
And punch up he does. The trailers for Thor: Ragnarok have thus far shied away from showing too much of the gladiator action that will take place in the upcoming Thor threequel, but the glimpses that we have seen indicate that the beings who live on Sakaar seem to love Hulk for his ability to smash. What The Grandmaster and the residents of Sakaar don't know, as we learned on the set, is that Hulk has a far more timid (and smaller) inner self that they have never seen because he has remained in the form of "the big guy" for two full years to stay alive.
The beauty of bringing a guy like The Hulk to a planet like Sakaar is the fact that it's a locale in which he can finally cut loose without fear of judgment from the outside world. At his core, Bruce Banner's biggest cross to carry as a member of The Avengers is the fact that he has uncontrollable, godlike powers in a world populated by mortals. Most people on Earth fear him, but Sakaar represents a complete reversal of what he's used to at home.
However, it doesn't seem likely that Hulk will stay in the comfort of that acceptance for long. The trailers have shown him eventually making his way to Asgard with Thor, Valkyrie, and Loki to face off against Hela, and we already know that he's going to return to The Avengers roster when Thanos strolls into town next year. Everyone must go home eventually, and Thor's arrival on Sakaar will be what spurs that change for Hulk.
The Hulk will continue to smash his way through the bad guys (as well as a few good guys) when Thor: Ragnarok debuts in theaters later this year on November 3, 2017. From there, Bruce Banner and Thor Odinson will go on to reunite with their superhero teammates when The Avengers: Infinity War premieres next year on May 4, 2018. Here's everything that we currently know about Ragnarok, and everything that we have on Infinity War.
With anticipation for Thor: Ragnarok officially ramping up, Marvel Studios has released some fantastic new character posters the accompany the film. Take a good, hard look at them, below.
Image 1 of 7
Your Daily Blend of Entertainment News
Originally from Connecticut, Conner grew up in San Diego and graduated from Chapman University in 2014. He now lives in Los Angeles working in and around the entertainment industry and can mostly be found binging horror movies and chugging coffee.
Your Daily Blend of Entertainment News
Thank you for signing up to CinemaBlend. You will receive a verification email shortly.
There was a problem. Please refresh the page and try again.