How The Alien Franchise Can Rebound After Alien: Covenant's Disappointing Box Office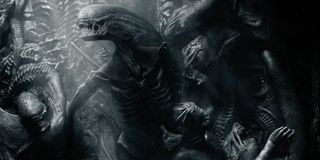 Although critics and fans generally responded positively to Ridley Scott's Alien: Covenant, the film didn't make much of an impression at the box office. Earning $236 million globally, the film's financial performance paled in comparison to that of Prometheus, and its domestic gross didn't even clear its $97 million production budget. That said, it sounds like the folks at the studio will continue to embrace Scott's vision moving forward. Twentieth Century Fox CEO Stacey Snider addressed the film's underwhelming box office numbers noting there is a way to rebound moving forward...
In many ways, Alien: Covenant arguably felt like a retread of the original Alien from 1979. Blending narrative elements of Prometheus and the first film, the latest Alien movie told a straightforward horror story, while also setting the stage to continue its more profound philosophical exploration in a later film -- primarily with David escaping with a ship full of potential test subjects. Per Stacey Snider's comments to Variety, it sounds like the folks at the studio want to see where Ridley Scott can take this franchise that's new and exciting, rather than falling back on the familiar for future projects. The franchise isn't finished; it's just going to branch out and try something different, whether that be a planet or something else, as it moves forward.
Looking beyond Alien: Covenant, there appears to be a grander vision for how Ridley Scott wants to explore this universe. During the promotional campaign for Covenant, the director revealed (possibly by accident) that he intends to move forward with another Alien movie called Alien: Awakening, which will chronologically take place between the events of Prometheus and Covenant. It's unclear how this vision will evolve based on the release of Covenant, but it's obvious that the story doesn't end with David flying off with The Covenant and some Xenomorph embryos.
Of course, for some fans of the long-running sci-fi/horror franchise, the underwhelming performance of Alien: Covenant raises legitimate questions about how things could've turned out differently if the franchise had changed hands. Before Ridley Scott returned to take full control of the Alien property, District 9 director Neil Blomkamp famously pitched a version of Alien 5 that would've brought Sigourney Weaver back as Ellen Ripley, as well as Michael Biehn as fan-favorite colonial marine Hicks. The ill-fated sequel generated a ton of online enthusiasm among die-hard members of the fan-base, but the progression of the Prometheus storyline has pretty much put the kibosh on any hope of getting that project made. Given Fox's newly revealed desire to see the series move away from the familiar, we won't hold our breath to see Ripley come back anytime soon.
Where do you want to see the Alien franchise go from here? Let us know what you think in the comments section below, and take a look at our 2017 movie premiere guide (as well as our 2018 movie premiere guide) for more up-to-date information on the major theatrical releases of the next year.
Originally from Connecticut, Conner grew up in San Diego and graduated from Chapman University in 2014. He now lives in Los Angeles working in and around the entertainment industry and can mostly be found binging horror movies and chugging coffee.
Your Daily Blend of Entertainment News
Thank you for signing up to CinemaBlend. You will receive a verification email shortly.
There was a problem. Please refresh the page and try again.