Winchester Trailer: Helen Mirren Looks Riveting As The Famously Weird Heiress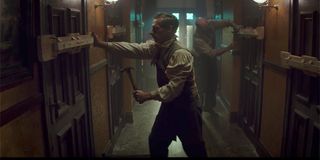 The Winchester House is the thing of legend. Built by Sarah Winchester, the odd duck heir to the Winchester rifle fortune, the house with seven stories was built 24-hours a day and seven days a week for decades. More than 100 rooms exist in the sweeping home, which can be visited in San Jose, California to this very day. If you don't want to go that far, you'll be able to check out the story in Winchester: The House That Ghosts Built, starring Helen Mirren. You can check out the frightening new take on the old story in the first trailer, below.
There's a lot that's unclear about Sarah Winchester, the heiress who built a home consecutively for 38 years. She's a figure of legend, a woman who held a vast fortune and who may have built her home thanks to the antics of a medium who told her to keep building or doom would come. This has been refuted in some biographies, but Winchester clearly takes the tact that Sarah Winchester was a superstitious figure who believed in ghosts, and at least one ghostly apparition is present throughout the creepy first look at the new movie. As Helen Mirren's Sarah Winchester notes, a ghost is present, and she can "feel" it.
Yes, it looks as if there will be ghosts. The legend of Sarah Winchester has inspired other works of fiction, including Stephen King's Rose Red, which features a home of a similar nature, with doors leading to nowhere, windows inside the home and more. We see some of these facets in the trailer to Winchester, which was actually filmed in the 161-room mansion at the Winchester Mystery House in San Jose. (I wonder if the movie will boost visits to the tourist attraction?) As the troubled widow, Helen Mirren looks just as riveting and enigmatic as her surroundings.
With jump scares and a cynic in Jason Clarke's Eric Price, Winchester: The House That Ghosts Built looks a lot like your typical ghost story, but its setting and cast are anything but typical. We'll have to wait and see if Winchester is absolutely one to catch, but for now, this should be one that is on your radar.
Winchester is expected to hit theaters on February 2, 2018. To take a look at what else is coming in 2018, check out our full movies schedule.
Reality TV fan with a pinch of Disney fairy dust thrown in. Theme park junkie. If you've created a rom-com I've probably watched it.
Your Daily Blend of Entertainment News
Thank you for signing up to CinemaBlend. You will receive a verification email shortly.
There was a problem. Please refresh the page and try again.