7 Marvel Characters We Hope Return By Avengers 4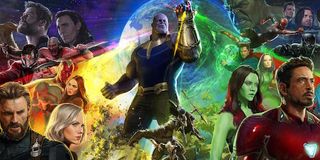 Next year's Avengers: Infinity War is set to be the Marvel Cinematic Universe's biggest movie yet, but Avengers 4 in 2019 after is expected to be equally as large in scope, if not more so. Serving as both the conclusion to Phase Three and wrapping up numerous storylines since the franchise's inception in 2008, nearly every major Marvel superhero is expected to appear in this spectacle. But it won't just be the heroes stopping by. For instance, last week, it was reported that Jurassic World actor Ty Simpkins will reprise Harley Keener, the boy Tony Stark befriended in Iron Man 3, for Avengers 4.
Taking Harley Keener's return into account, we've gathered together folks who haven't been seen in the MCU for a while and are deserving of a return by the time Avengers 4 rolls around. Starting off, let's look at a woman who's been MIA for nearly a decade and had a close connection to a certain green-skinned powerhouse.
Betty Ross
Betty Ross was last seen in the MCU looking at a picture she took of Bruce Banner and wondering where he was following the battle with The Abomination. Her father, Thunderbolt Ross, recently resurfaced in Captain America: Civil War as the U.S.Secretary of State, but Betty hasn't been mentioned since The Incredible Hulk. Granted, Bruce has been busy in recent years aiding the Avengers and kicking ass on Sakaar, and given that Marvel is unable to make another solo Hulk movie, it's harder to squeeze supporting Hulk characters into these other movies. Nevertheless, it would be great if Bruce and Betty could reunite by Avengers 4, and if the rumors from earlier this year are true, it sounds like we will indeed see Liv Tyler reprising the scientist in the MCU soon.
Justin Hammer
Mickey Rourke's Ivan Vanko may have failed to be a compelling protagonist in Iron Man 2, but thankfully, Sam Rockwell's Justin Hammer was there to entertain moviegoers as a wannabe Tony Stark. Hammer was jailed for his crimes, and his cameo in the One-Shot short film All Hail the King implied he's acclimated to prison life relatively well. We don't expect Justin Hammer to become a notable antagonist again in the MCU, but that doesn't mean we can't check back in on him at Seagate Prison to soak in a minute or two of his self-centered personality. It'd been even better if he could engage in more witty repartee with Iron Man.
Maria Hill
Maria Hill doesn't get as much attention as S.H.I.E.L.D. heavy hitters like Black Widow or Nick Fury, but she's nonetheless been an important ally to the Marvel heroes across three movies. At the end of Avengers: Age of Ultron, Maria was seen helping Earth's Mightiest Heroes set up their new base, but her whereabouts since then haven't been disclosed. Right now, Maria Hill is only rumored to show up in Avengers: Infinity War, but here's hoping we get official confirmation of her appearance in that movie and/or Avengers 4. She may not have special powers, but her spy skills and affiliation with these characters are more than enough to justify being brought back.
Erik Selvig
Having finally recovered from the mental breakdown he suffered (as seen in Thor: The Dark World) after being controlled by Loki, Erik Selvig was last seen in Avengers: Age of Ultron resuming his teaching career and aiding Thor at the Water of Sights. Selvig is sitting out Thor: Ragnarok due to most of that movie being set away from Earth, but Stellan Skarsgard does have one movie left on his contract, and he has expressed interest in reprising that character again in one of the Avengers movies. Obviously his scientific knowledge could come in handy during these cosmic events, but even just seeing him interact with the God of Thunder again would be enough.
Helen Cho
Helen Cho didn't get a lot of screen time in Avengers: Age of Ultron, but because she was forced by Ultron to build him a vibranium body, she paved the way for The Vision's birth. Even before her unfortunate encounter with Avengers: Age of Ultron's megalomaniacal robot, Helen was established as a colleague of the Avengers, so it stands to reason that her association with them hasn't ended, especially since she helped set up the New Avengers Facility. But along with being a valuable character on her own, bringing Helen Cho back could also be the opportunity to introduce her much more famous son from the comics, Amadeus Cho. And no, we don't consider that line in The Incredible Hulk novelization that that's who Martin Starr's character was to be canon.
Peggy Carter
Over her 95-year life, Peggy Carter left behind an immeasurable legacy in the MCU, most notably founding S.H.I.E.L.D. and defeating bad guys on her short-lived TV series. Peggy passed away peacefully in Captain America: Civil War, and we don't expect her to be resurrected during either Avengers: Infinity War or Avengers 4. In fact, let's hope that doesn't happen. That being said, since it's possible that Chris Evans may not play Captain America again after Phase Three concluded, we'd be interested in seeing him have one last moment with the woman who was the love of his life. Whether Peggy's "return" accomplished through a hallucination, dream or even time travel, it's not impossible that we'll get another appearance from her, as Hayley Atwell recently visited Atlanta, Georgia, where Infinity War and Avengers 4 are shooting.
Nick Fury
Admittedly, this last entry is a bit of a cheat, since Nick Fury's next MCU appearance has already been confirmed. The super spy is returning for Captain Marvel, which is set in the 1990s and will show the character with two working eyes. But regarding Fury in the present day, he hasn't been seen since Avengers: Age of Ultron, and there's been no mention of what he's been up to since then. Considering that this is the man who served as the primary connective thread between the Phase One Marvel movies and brought the Avengers together, it would be weird if Samuel L. Jackson's didn't reprise the contemporary Fury at least one more time before this era of the MCU wraps up. Fortunately for Fury fans, a casting call for someone matching Samuel L. Jackson's look in these movies indicates that we may see him back in Avengers 4.
This poll is no longer available.
Your Daily Blend of Entertainment News
Connoisseur of Marvel, DC, Star Wars, John Wick, MonsterVerse and Doctor Who lore. He's aware he looks like Harry Potter and Clark Kent.
Your Daily Blend of Entertainment News
Thank you for signing up to CinemaBlend. You will receive a verification email shortly.
There was a problem. Please refresh the page and try again.