One Empire Strikes Back Moment Mark Hamill Is Still Mad About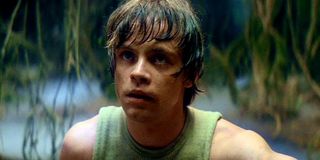 The Empire Strikes Back didn't waste any time in putting Luke Skywalker through danger. Minutes after the Star Wars movie reunited audiences with the young Force-user, he was attacked by a wampa and dragged off to be consumed for a future feast. Luke fortunately escaped the creature's lair before being eaten, and in the process sliced off the wampa's arm with his lightsaber. But nearly 40 years later, Mark Hamill is still displeased with how this encounter turned out, as he believes Luke wouldn't have permanently harmed the creature in that situation.
So evidently before director Irvin Kirshner, George Lucas and the rest of the Empire Strikes Back crew shot Luke escaping from the wampa, Mark Hamill was under the impression that Luke was only going to use his lightsaber to scare away the monster away, and it only would have lost a little fur. Alas, instead the Hoth native lost its right arm for messing with young Skywalker, and given how harsh the snow planet is, presumably it died sooner after. Not from blood loss (that amputation was treated with the standard lightsaber cauterization), but because it wouldn't have been able to properly hunt, and would subsequently have fallen prey to Hoth's harsh climate.
Regardless, from Mark Hamill's perspective, he considers Luke's action in that moment animal cruelty, and for those of you wondering if Hamill is just kidding around (as he's known to do on Twitter), he later told a fan that he's being serious about this. So if you wanted to see Luke slice off any other creatures' appendages in the Star Wars movies just because they were feeling peckish, don't count on it. Sith Lord and other dark side users, on the other hand, are likely still on the table.
You can watch Luke's escaping the wampa's clutches in The Empire Strikes Back clip below.
This wouldn't be the last time that Luke Skywalker fought a Star Wars monster determined to eat him, as three years later in Return of the Jedi, Luke dispatched Jabba the Hutt's pet rancor. In this case, however, Luke didn't have an escape route available and his lightsaber was still in R2-D2's possession, so if he hadn't had lowered that door and crushed the rancor, he would have been the next pile of bones in that pit. While it's been rumored that Star Wars: The Last Jedi will include a giant sea monster on Ahch-To, though it will be Rey dealing with that opponent rather than Luke. Sine this beast sounds formidable, I hope that Luke doesn't have any issues with Rey taking lethal measures to ensure her survival.
You can see Mark Hamill reprise Luke Skywalker when Star Wars: The Last Jedi opens in theaters on December 15, and stay tuned to CinemaBlend for all the latest major updates concerning the Star Wars franchise.
Connoisseur of Marvel, DC, Star Wars, John Wick, MonsterVerse and Doctor Who lore. He's aware he looks like Harry Potter and Clark Kent.
Your Daily Blend of Entertainment News
Thank you for signing up to CinemaBlend. You will receive a verification email shortly.
There was a problem. Please refresh the page and try again.