Why Snoke Is Mad At Kylo Ren In Star Wars: The Last Jedi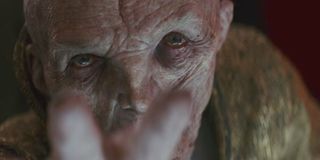 The Light Side of The Force prevailed at the end of The Force Awakens, but much like the end of A New Hope, it sounds like things are getting even darker in the world of Star Wars going into the new trilogy's middle installment. The Last Jedi is poised to make its debut next month on December 15, and trouble is brewing over on the Dark Side. In fact, Andy Serkis recently opened up about Supreme Leader Snoke's relationship with Kylo Ren (Adam Driver) and explained that Snoke is furious with Kylo in The Last Jedi because his apprenticeship is not delivering results. Serkis explained:
Despite his imposing appearance and presence in The Force Awakens, Kylo Ren very clearly failed to serve Snoke during the events of Episode VII. Unable to abide or support a failure like that, Snoke will continue to undermine and belittle Kylo throughout the events of The Last Jedi -- pitting Ben Solo in a game of wits against Hux (Domhnall Gleeson) along the way. In that regard, it seems that the dynamic shared between Snoke and Kylo Ren feels even less like a partnership than the one shared by The Emperor and Darth Vader, as Snoke seems perfectly willing to abuse Kylo in any way that he sees fit to achieve his goals.
Supreme Leader Snoke's dissatisfaction with Keylo Ren's performance as his apprentice raises some serious questions about whether or not Kylo Ren will even maintain his position by the end of The Last Jedi's story. The possibility of Rey (Daisy Ridley) being turned to the Dark Side seems like a potential story direction that has many fans of the Star Wars franchise excited (and Mark Hamill's Luke Skywalker very concerned), and this revelation about Kylo makes it seem even more possible. Will Rey turn to the Dark Side during the events of The Last Jedi? At this point, we have no way of knowing, but Andy Serkis' comments to EW make it clear that things are about to get darker for everyone involved in the next stage of the Star Wars saga.
Check out a recent trailer for Star Wars: The Last Jedi below to get a closer look at the upcoming Star Wars film and Snoke's master plan.
The wait for Rian Johnson's Star Wars: The Last Jedi will finally come to a head next month when the highly-anticipated sequel debuts on December 15. Tickets for The Last Jedi are already available (opens in new tab) for pre-order, so make sure to get yours now and start gearing up for the next installment of the Star Wars franchise!
Originally from Connecticut, Conner grew up in San Diego and graduated from Chapman University in 2014. He now lives in Los Angeles working in and around the entertainment industry and can mostly be found binging horror movies and chugging coffee.
Your Daily Blend of Entertainment News
Thank you for signing up to CinemaBlend. You will receive a verification email shortly.
There was a problem. Please refresh the page and try again.