Zack Snyder May Have Originally Wanted To Stay On Justice League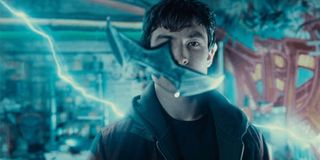 When Zack Snyder stepped down from Justice League earlier this year, the circumstances were understandable. Snyder and his wife Deborah, had just lost their daughter to suicide, and helming a tentpole movie with a lot of headaches and expectations from the parent studio would be a lot for anyone to work through, but especially a lot for someone dealing with intense grief. While Zack Snyder eventually let Joss Whedon take the reins on the film, a new report alleges that was not always his plan. Apparently, Snyder may have wanted to stay on Justice League, after all.
The process of Justice League coming together was never easy. Reports have indicated that Zack Snyder and Warner Bros. were not in total agreement regarding the tone of Justice League, especially following Batman v Superman: Dawn of Justice's reviews. There was some push and pull between dark and light, which might have been manageable at one point. However, then Zack Snyder and his wife lost their daughter. According to a new report, the famous director wanted to throw himself into his work. Justice League was reportedly seen as "a refuge" by the director, according to one insider. But through this Snyder seemingly continued to have trouble reconciling his vision with the ideas Joss Whedon was bringing to the table.
A lengthy report over at The Wrap mentions insider thoughts on the DC, Warner Bros. and Zack Snyder situation. This was in the spring of 2017, before Wonder Woman had hit theaters, earning rave reviews and proving a hopeful and female-fronted superhero film can work. Still, if this report is accurate, it highlights that Warner Bros. had two priorities, lightening up the tone of Justice League and still hitting release date. It managed both, but the end result was not the critical success that Wonder Woman ended up being during the summer of 2017.
As for Zack Snyder, in May the director stepped down from Justice League, allowing Joss Whedon to take over the majority of duties. Whedon's vision involved extensive reshoots, reshoots that were complicated by the fact Henry Cavill was also busy with Mission: Impossible 6, a movie which required him to grow an extensive mustache. Warner Bros. reportedly tried to work with Paramount to resolve the issue so Superman could be clean-shaven, but Paramount decided it wasn't the studio's problem, and so Superman has some really noticeable CGI stuff going on during a few scenes in Justice League.
So far, the movie has made a little under $500 million at the worldwide box office. It has only been out for a couple of weeks now, and should continue to make money through the holiday season, but the movie's cume may not end up being near the billion+ figure that seemed to be a likelihood for the superhero tentpole flick early on. It's tough to know if that may have changed if Zack Snyder had been allowed to stay on, or if Joss Whedon had been given more time to really flesh out his own vision, working with the material Snyder had already given him.
If you haven't caught Justice League, yet, take a look at what you should know before seeing the film, or just, you know, catch it in theaters in the time before Star Wars: The Last Jedi and some festival favorites come out.
Your Daily Blend of Entertainment News
Reality TV fan with a pinch of Disney fairy dust thrown in. Theme park junkie. If you've created a rom-com I've probably watched it.