Why Zack Snyder Decided To Make Aquaman Different Than The Comics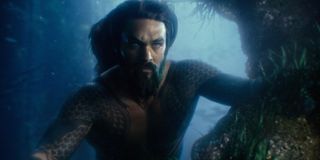 After more than seven decades of comic book, TV and video game appearances, Aquaman finally made his theatrical debut last year in Batman v Superman: Dawn of Justice, though it was Justice League earlier this month that marked his full introduction. But rather than directly translate the comics Aquaman to the big screen, director Zack Snyder decided to go in a different direction, both visually and personality-wise. Jason Momoa is now the man playing Arthur Curry in the DC Extended Universe, and he recently explained that Snyder cast him in the role because Momoa fit in with the vision of this character being more of an outsider. In Momoa's words:
Although the modern DC Comics era has played around more with Aquaman struggling with his mixed heritage, for the purposes of the DCEU, Zack Snyder wanted to emphasize that further and also make Arthur Curry into more of a bad boy. Having seen what Jason Momoa did as Khal Drogo on Game of Thrones and knowing a little bit about the actor's background, he thought he was the right man for the job. Momoa's Aquaman is still a protector, but he's nowhere near a straight-laced do-gooder like his comic book counterpart.
Along with these characterization changes came a visual makeover as well. Exchanging the short blonde hair and the standard orange shirt/green pants combo for longer darker hair, armor and tattoos, Jason Momoa's Aquaman in Justice League calls to mind someone who's more a warrior than your average superhero. Arthur Curry's eyes were also made a piecing green, which Momoa discussed with Total Film as follows:
Visually-speaking, while Jason Momoa's Aquaman does somewhat call back to the character's '90s/early 2000s days when he had the long hair and a hook for a hand, for the most part he was designed to not resemble the classic Aquaman we remember best from the Silver Age/Super Friends days. However, even with all these differences, the DCEU's Aquaman still shares many similarities with the original version. He's a man of two "worlds," he has most of the same abilities and following Justice League, he's now determined to keep both Atlantis and the surface world safe from threats.
Justice League is still playing in theaters, and Jason Momoa will reprise Arthur Curry for the Aquaman movie, which dives into theaters on December 21, 2018.
Connoisseur of Marvel, DC, Star Wars, John Wick, MonsterVerse and Doctor Who lore. He's aware he looks like Harry Potter and Clark Kent.
Your Daily Blend of Entertainment News
Thank you for signing up to CinemaBlend. You will receive a verification email shortly.
There was a problem. Please refresh the page and try again.