Why A Fox And Disney Merger Could Be Great For Non-Marvel Superheroes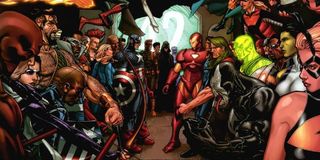 At this point, it's no secret that Disney is closing in on a landmark deal to acquire several of 21st Century Fox's most beloved properties. Chief among these are X-Men and Fantastic Four, which could consolidate Fox's superhero films into the Marvel Cinematic Universe for the foreseeable future. Some fans have voiced concerns about the possibility of this happening, as it will inherently lead to less Marvel-inspired movies debuting per year, but that could be a good thing for the comic book movie genre as a whole. Specifically, if Disney eventually produces the bulk of the Marvel movies that debut in a given year, then it could provide non-Marvel IP a fighting chance at the box office.
The reason for this is simple: putting most of the Marvel movies under one roof inherently limits the number of Marvel movies that can conceivably get made in a given year. Disney seemingly has all of the money in the world, but it also has other properties like Star Wars, the live-action remakes like The Lion King and its animation houses to consider. Bringing in the FOX-owned properties like X-Men and Fantastic Four will give Marvel Studios more storytelling options, but the odds of Disney investing in more than the 2-3 MCU movies that it releases in a given year seems slim, particularly in such a producer-oriented environment in which Kevin Feige is so heavily involved in each project.
If that turns out to be the case, then we could presumably take Fox's highly-coveted superhero movie release dates off of the schedule. Using 2018 as an example, this means New Mutants' April 13 release date would open up, Deadpool 2's June 1 release date would become available and another franchise could swoop in for X-Men: Dark Phoenix's November 2 slot -- again, those movies are still coming, but this is just a model. With coveted dates like those up for grabs, smaller studios could grab smaller (and likely cheaper) superhero properties and plug those into those great release dates. For example, Lionsgate's Hellboy reboot wouldn't need to take a January release date because Marvel properties wouldn't have a vice grip on spring, summer, and fall anymore.
The possibilities here are only as limited as the imaginations of smaller studios willing to get in on the action. Disney and Warner Bros would likely continue to reign with Marvel and DC, respectively. However, studios like Paramount or Universal could use the more open calendar to invest in smaller properties that have a better chance of debuting in spring or summer with Fox's properties off of the table.
It is worth mentioning that Disney absorbing the Fox Marvel properties does likely mean that the hard-R Marvel films in the vein of Deadpool and Logan could be in jeopardy, and that would be unfortunate for fans. However, the consolidation of Marvel properties under the Disney banner would allow other dark, gritty and all-around R-worthy comic book properties like American Vampire, Invincible or Scud: The Disposable Assassin the moment that they never would've received in a Marvel-saturated landscape.
The aforementioned Hellboy reboot is taking this route, and it seems safe to assume that Sony's reboot of The Crow will do the same. With this deal potentially about to create a void for edgy material, other studios could easily step in and fill it with less mainstream IP.
Don't get me wrong; we absolutely love Marvel and Marvel-based movies. Having said that, we have to consider the ever-present possibility of superhero fatigue. The comic book movie world needs to stay fresh if it wants to survive, and decentralizing the genre to focus less on Marvel characters feels like one of the best ways to get that done.
As with anything in life, there are pros and cons to the possibility of Disney acquiring so many beloved Fox properties. That said, if you're a fan of slightly off-kilter comic book films that don't entirely fall under the Marvel or DC banner, then this deal has the potential to lead to some great projects down the line. We will just have to wait and see if this deal goes through to know for sure.
This poll is no longer available.
Your Daily Blend of Entertainment News
Originally from Connecticut, Conner grew up in San Diego and graduated from Chapman University in 2014. He now lives in Los Angeles working in and around the entertainment industry and can mostly be found binging horror movies and chugging coffee.