The 8 Biggest Snubs From the 2018 Golden Globes Nominations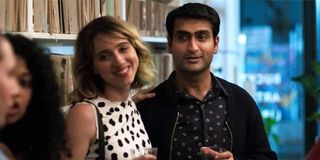 This morning the 2018 Golden Globe Award nominations were announced and, as happens every year, there were some surprising films and performances that made the list, but that means that some great movies didn't make the cut. It's difficult to nominate everything that's deserving every year, but sometimes one wonders what the people making these decisions were thinking.
There were several serious awards contenders that missed out on key nominations this year. Here are the biggest snubs from the 2018 Golden Globe award nominations.
Patrick Stewart
We thought this might be the year. We thought that comic book movies might finally be represented at the big awards shows thanks to the dramatic turn in the genre that was Logan. Patrick Stewart has seen Best Supporting Actor nominations from other organizations for his role in the film, and since the Golden Globes tends to recognize more mainstream movies than some of the other groups that hand out awards, it seemed like a strong possibility that Stewart would be nominated here, as well. This would seem to make any more mainstream attention seem like a long shot, which is a shame because Logan really is that good.
The Big Sick
The Big Sick was the semi-autobiographical comedy written by Kumail Nanjiani and his wife Emily Gordon. It's an absolutely hilarious film that's also just an incredibly unique story, a twist on the romantic comedy that breathes new life into the concept. For reasons passing understanding, The Big Sick was completely overlooked this morning. It deserved a nomination in the Best Picture - Musical or Comedy category, and the reason it did is because of great acting performances from the likes of Nanjiani, Holly Hunter, and even Ray Romano. A Best Screenplay nomination also wouldn't have been out of line. And yet, a goose egg. How?
Patty Jenkins
Alongside Logan, there was a second big superhero movie this year that had a shot at picking up some nominations. Or so we thought. Wonder Woman didn't just impress audiences, but critics as well. Patty Jenkins directed one of the best action movies of the year that also included great characters. As such, seeing a Best Director nomination would have been some nice recognition of a job well done. While a win would certainly have been a longshot, the nomination would have made sense considering how well regarded Wonder Woman is.
Tiffany Haddish
Girls Trip was the comedy hit of the summer and a large portion of the credit for that was given to relative newcomer Tiffany Haddish. She's been nominated for Best Supporting Actress by a number of critics' organizations already, and has even already won the award given by the New York Film Critics Circle. She would have seemed to be a clear nominee for the Golden Globes, so not seeing her make this short list is a bit surprising. The competition was certainly fierce, but there were some surprises in who made that list, which appear to have pushed her out.
Jake Gyllenhaal
For some reason, Jake Gyllenhaal just seems to get snubbed by the Golden Globes. He made our list last year after being overlooked for Nocturnal Animals when the film received several other nominations. While Stronger was completely shut out this year, the one major oversight there is Gyllenhaal's powerful lead performance. The story of a man who was seriously injured in the Boston Marathon Bombing, Gyllenhaal brings something quite real to the part that we haven't seen in similar roles in past years.
Andy Serkis
Ever since Andy Serkis first wowed us with his performance as Gollum, the question of whether motion capture performances should be considered for acting awards has been a debated topic. With each ensuing performance, Andy Serkis hasn't simply improved the art of motion capture, but he's also become a better actor. This culminated with his performance in War for the Planet of the Apes. It was so good, it seemed like maybe this would finally be the year that motion capture performances would be properly recognized as acting. Unfortunately, Serkis was overlooked once again.
Jordan Peele
Get Out did successfully earn itself a nomination in the Best Picture category, though it was submitted for Musical or Comedy for some daft reason. Daniel Kaluuya also received a Best Actor nomination. However, the creative force behind the unique and thought-provoking film was completely ignored. Jordan Peele wrote and directed Get Out. He made every decision that made the film great, and yet he was left off of both the Best Screenplay and Best Director nomination lists. The film isn't a Best Picture nominee without Peele, but somehow the Golden Globes forgot that part.
mother!
Darren Aronofsky's mother! was a divisive film to say the least, but you can't argue that it wasn't an exercise in artistic expression. It's a visually stunning and emotionally powerful movie, even if it makes you flinch more than once. The film is also about much deeper things than the story that plays out on screen, and often those that give out awards appreciate films that push the envelope and try to do more than simply tell a story. mother! certainly does that, so it's certainly a snub that the film wasn't recognized for that in some capacity, such as a screenplay nomination.
CinemaBlend's resident theme park junkie and amateur Disney historian. Armchair Imagineer. Epcot Stan. Future Club 33 Member.
Your Daily Blend of Entertainment News
Thank you for signing up to CinemaBlend. You will receive a verification email shortly.
There was a problem. Please refresh the page and try again.