How The Last Jedi Changes The Way We Think About Star Wars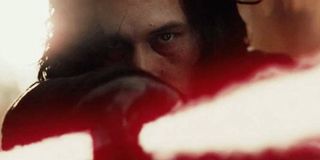 Warning: massive spoilers ahead for Star Wars: The Last Jedi! If you haven't seen the latest entry in the Star Wars universe yet, you might want to turn back now!
Luke Skywalker seriously wasn't lying when he said that things wouldn't end the way we expected them to in Star Wars: The Last Jedi. The follow-up to The Force Awakens has taken the world by storm, and many fans have praised the way that it subverts and upends many of the well-worn traditions of the Star Wars franchise. One such creative shift is the complete and utter dissection of morality, and The Last Jedi's treatment of good versus evil pretty much changes the way that we look at the entire galaxy far, far away.
It all boils down to how director Rian Johnson handles each of the film's subplots. From Luke and Rey training on the island of Ahch-to, to Poe Dameron's struggle against Amilyn Holdo on-board the Resistance cruiser, to Finn and Rose Tico searching for a splicer on the endlessly opulent Canto Bight; every subplot in Star Wars: The Last Jedi feels thematically structured around the idea of moral ambiguity. We learn that the seemingly pure and righteous Luke considered murdering Ben Solo years earlier. We see (thanks to newcomer DJ) that both The First Order and The Resistance are guilty of dealing with war profiteers. And we get to a point at which Kylo Ren is no longer fixated on being a Jedi or a Sith. He's now done serving as Snoke's puppet, and he wants to pursue the remnants of The Resistance based on his anger and perceived mistreatment.
Perhaps no other character in Star Wars: The Last Jedi embodies that idea more than Laura Dern's Amilyn Holdo. Though brand new to the Star Wars universe (and likely a one-off personality, given her explosive character arc), she very much set the bar for where characters will soon go in this world.
Throughout the bulk of the film's story, we're led to believe that Amilyn Holdo is not to be trusted, and a danger to the best-laid plans of Poe Dameron. However, by the time the film's third act kicks into high gear, we learn that Admiral Holdo was not only right in her assessment of the film's central space battle between The Force Order and The Resistance, but she was also a true hero in a more diplomatic and nuanced way than we're used to seeing from a Star Wars movie. She was willing to play the bad guy to serve a greater good ultimately, and that's indicative of where these films seem to want to go. It's not just about good versus evil, or Light versus Dark. It's about more three-dimensional characters acting in ways that are based on their specific personalities.
Does that mean that Star Wars will instantly turn into a universe full of morally ambiguous anti-heroes? Not necessarily, as Rey's resolve to stick to the Light Side of the Force and rebuild the Jedi Order certainly seems stronger than ever at the moment. However, Star Wars: The Last Jedi does a lot of work to reframe the entire Star Wars universe to feel more predicated on a battle of conflicting, morally grey ideologies than a simple, archetypical fight between good and evil.
We saw hints of how Disney and Lucasfilm would begin to embrace this idea in Rogue One: A Star Wars Story, and now it looks like the main saga has adopted this approach, as well. Now we just have to wait and see how Solo: A Star Wars Story, J.J. Abrams' Episode IX, and Rian Johnson's new Star Wars trilogy carry the moral torch from here.
Rian Johnson's Star Wars: The Last Jedi is currently in theaters, so if you haven't already, make sure to take a look at our in-depth review of the latest Star Wars film before you check it out on the big screen!
This poll is no longer available.
Your Daily Blend of Entertainment News
Originally from Connecticut, Conner grew up in San Diego and graduated from Chapman University in 2014. He now lives in Los Angeles working in and around the entertainment industry and can mostly be found binging horror movies and chugging coffee.
Your Daily Blend of Entertainment News
Thank you for signing up to CinemaBlend. You will receive a verification email shortly.
There was a problem. Please refresh the page and try again.