The Pitch Perfect 3 Spinoff I Actually Want To See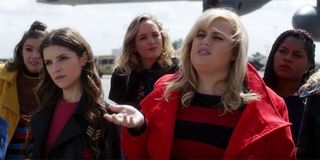 This is an idea for a spinoff, or really a prequel for Pitch Perfect 3. If you haven't seen the movie yet, I did have to get into spoiler territory, here.
There's been quite a bit of talk over the last couple of weeks regarding whether or not Pitch Perfect 4 will ever happen. In addition, we've even seen director Trish Sie weigh in on whether or not the franchise could get rebooted by Universal if Pitch Perfect 4 doesn't happen. I'm here to say, "Stop it guys." We already know that Pitch Perfect 3 is being touted as the final movie, and the public's appetite for reboots is really hit or miss. However, there's totally a spinoff idea, or really a prequel idea, that was already teased in Pitch Perfect 3 that could make for a fun, zany movie starring none other than Fat Amy and her father.
I'm going to go ahead and kick off this article by noting that I had a lot of fun during Pitch Perfect 3. Sure, the plot was over-the-top, but most of the jokes landed for me. If they didn't land for you, another movie probably wouldn't either. But if they did land for you, Pitch Perfect 3 already gave us the seeds of a storyline involving Fat Amy, her father and her mother's death. In the new movie, we learned that Fat Amy only decided to go to Barden after her mother died and she successfully ran away from home to cut contact with her criminal father, Fergus, played by John Lithgow (with an outlandish Australian accent). Her father finds her during the course of the new movie and nearly tricks Fat Amy into giving him an inheritance her mother left her, but she saves the Bellas from her father's wrath using martial arts tricks we didn't know she had.
I'd love to see Universal go back to a time before the events in Pitch Perfect 3 (opens in new tab), before the events in Pitch Perfect 2 and before the events in Pitch Perfect 1. I want to see Fat Amy training in martial arts and living on a luxury yacht with her father. I want to see John Lithgow's character cultivate his daughter into a mini version of his criminal self. I want to see them commit crimes, and I want to see her shake free of that environment. This new movie could literally close on the moment she meets Beca and the Bellas in Pitch Perfect 1, so it could even feature enough cameos from the OG cast to entice the fans, as well.
Look, I'm unabashedly a Fat Amy fan. I recognize that not everyone feels the same way, and if I'm alone on an island as Fat Amy's fanbase, a team-up between Rebel Wilson and John Lithgow may not be the best bang for Universal's buck. Regardless, I stand firmly by the idea that John Lithgow makes everything better (See: Dexter, The Crown, and even Daddy's Home 2), and if Universal is going to make another movie in the Pitch Perfect universe, this is the story I'm most interested in.
This poll is no longer available.
Your Daily Blend of Entertainment News
Reality TV fan with a pinch of Disney fairy dust thrown in. Theme park junkie. If you've created a rom-com I've probably watched it.
Your Daily Blend of Entertainment News
Thank you for signing up to CinemaBlend. You will receive a verification email shortly.
There was a problem. Please refresh the page and try again.