Every Remake Heading To Movie Theaters In 2018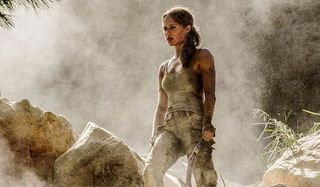 Hollywood still likes to tell original stories here and there, but a lot of what hits theaters throughout a year nowadays are based off existing intellectual property. Sometimes these come in the form of sequels and prequels, and other times they come in the form of straight-up do-overs, i.e. remakes and reboots. 2017 revisited quite a few properties that people are well familiar with from earlier theatrical movies and/or TV shows, and 2018 will keep that trend up.
Sometimes remakes/reboots successfully readapt an existing story, other times they fall with a huge thud. It's too soon to tell how any of the following movies will perform in theaters later this year, but if you're interested to see what's being released under this category from now until the end of 2018, we've complied them for you below, in order of release date.
Death Wish
Release Date: March 2nd
Inheriting the Paul Kersey role from Charles Bronson, Bruce Willis is leading the Death Wish remake that's hitting many of the same beats as the 1974 original, which was based off the 1972 book written by Brian Garfield. After his wife is murdered and his daughter is brutally assaulted, Kersey (who is a doctor in this version rather than an architect) becomes a vigilante to dispense his idea of justice to criminals. The original Death Wish movie spawned four sequels, and while it's too soon to say if the Eli Roth-directed remake will get even one follow-up, whether you're a fan of the first Death Wish movie or are simply looking for an action movie to watch early in the year, it looks like the new Death Wish will offer plenty of pulse-pounding thrills.
The Upside
Release Date: March 9th
If The Upside doesn't sound familiar to you, that's because it's not based off an existing American title, but rather a 2011 French movie called The Intouchables, which was tremendously successful in its home country. Like The Intouchables, The Upside is a "comedic look" at a wealthy paraplegic, played by Bryan Cranston, and the unemployed man with a criminal record, played by Kevin Hart, who is hired to help him. The Upside debuted at the Toronto International Film Festival last September and was met with mixed reviews, but perhaps it will fare better among general audiences.
Tomb Raider
Release Date: March 16th
Rather than once again take inspiration from the early video games that the Angelina Jolie-led Tomb Raider movies were based off of, the Alicia Vikander-led movie will follow after the 2013 video game reboot that reintroduced Lara Croft. Vikander's Lara will head off on her first expedition after receiving a video message from her long-deceased father. Heading to the same island where Lord Richard Croft disappeared, Lara must rely on her skills and few resources to stop Walton Goggins' Mathias Vogel and the mysterious organization known as Trinity from using the Mother of Death tomb to endanger the world. Few video game movies have been critically and commercially successful, but perhaps 15 years of distance from the last Tomb Raider movie and relying on a more modern story will improve the Tomb Raider reboot's chances of success.
Overboard
Release Date: April 20th
In 1987's Overboard, Kurt Russell's Dean Proffitt, a carpenter, crossed paths with a spoiled and mean socialite named Joanna Stayton, played by Goldie Hawn. After Joanna lost her memory in a boating accident, Dean convinced her that they were husband and wife. For the Overboard remake, the main roles have been switched, with Anna Faris' Kate being the one who's tricking the entitled and amnesiac Leonardo, played by Eugenio Derbez. The original Overboard was met with mixed reception (though did relatively well financially), so it will be interesting to see if this remake can fare better with today's moviegoers.
Christopher Robin
Release Date: August 3rd
While not directly remaking or rebooting an existing movie, Christopher Robin is the latest Disney movie that's taking a classic animated property and adapting it for a live action setting. This time, we're turning to the Winnie the Pooh franchise, but rather than once again watch the young Christopher Robin visit the 100 Acre Wood to hang out with his animal friends, the Christopher Robin movie will follow the eponymous protagonist as an adult, where he's busy with work and not paying enough attention to his family. Enter Winnie the Pooh, Piglet and the rest of the gang, who re-enter Christopher's life to help him re-capture his sense of imagination. It's certainly not the Winnie the Pooh story we're used to seeing, but it sounds like it will stay true to spirit of the earlier animated movies.
Scarface
Release Date: August 10th
We've seen the Scarface told twice on the silver screen so far: the original came out in 1932, and the second, significantly more famous one came out in 1983. Now a third one is on the way, but this time, the story will revolve around a Mexican immigrant who comes to modern day Los Angeles and slowly rises up in the criminal underworld. Rogue One's Diego Luna was cast as the main character in January 2016, but that announcement came as Antonie Fuqua vacated the director's chair, and David Ayer followed suit months later. The last major update concerning the Scarface remake was that the Coen Brothers were working on the script, and there's still no word on who will be the new director. So even though Scarface is currently set for an August 2018 release, don't be surprised if it's delayed until everything behind the scenes is in order.
Robin Hood
Release Date: September 21st
It's only been eight years since Ridley Scott brought us an edgy and modern-feeling Robin Hood movie, but since that Russell Crowe-led tale was met with only mixed reviews, Hollywood has decided to take a different approach with the benevolent archer. This time around, Taron Egerton is playing a younger Robin Hood who's just getting started on his mission to steal from the rich and give to the poor. This Robin Hood reboot's supporting cast includes Jamie Foxx as Little John, Ben Mendelsohn as the Sheriff of Nottingham and Eve Hewson as Maid Marian. Given how many times Robin Hood has been adapted for the big screen, it will be interesting to see whether or not this Robin Hood movie brings enough new and interesting material to the table.
A Star Is Born
Release Date: October 5th
Like Scarface, A Star is Born is one of those movies that's already been given the remake treatment. The original movie came out in 1937, and the later versions were released in 1954 and 1976. For the fourth time around, Bradley Cooper and Lady Gaga will be portraying the main characters, and while the names are different, the basic premise is the same. Cooper's Jackson Maine, a movie star whose career is on the decline, helps Gaga's Ally, a singer and actress, kick off her own career. For many people, this will be their first time watching the A Star is Born story being told, so it will be interesting to see how this version fares with modern audiences.
Mowgli
Release Date: October 19th
It hasn't even been a full two years since Disney released its "live action" remake of The Jungle Book (inspired by the 1967 animated movie), but towards the end of the year, Warner Bros will finally release its long-awaited adaptation that will stick closer to Rudyard Kipling's original text. Original called Jungle Book: Origins, this version has since been retitled Mowgli, and it will follow the eponymous young protagonist as he discovers his human origins after living his whole life among animals, who are being created through performance capture. The supporting cast includes Andy Serkis (who also directed Mowgli) as Baloo, Christian bale as Bagheera, Benedict Cumberbatch as Shere Khan and Cate Blanchett as Kaa.
The Nutcracker And The Four Realms
Release Date: November 2nd
Although The Nutcracker is primarily known as a written story or a ballet, The Nutcracker And The Four Realms won't be the first time this tale has been told on the big screen, as it was previously adapted in 1986 and 2010 as simply The Nutcracker (though the 2010 one was in 3D). The Nutcracker And The Four Realms looks like it's sticking to the basic plot of the original story, with Mackenzie Foy's Clara entering a world who receives a nutcracker doll from her parents and is later transported to a world whose inhabitants include gingerbread soldiers, an army of mice and the Sugar Plum Fairy. Some of the big name actors in this production include Keira Knightley, Helen Mirren and Morgan Freeman.
The Grinch
Release Date: November 9th
61 years after Dr. Seuss published How The Grinch Stole Christmas, 52 years after the animated television special of the same name aired and 18 years after the story was theatrically adapted in live action, we're getting yet another version of The Grinch. This time, the green-furred grump will be presented in computer animation from the folks at Illumination Entertainment. Benedict Cumberbatch will voice The Grinch, and just like all the other times, he'll be scheming to ruin Christmas for the citizens of Whoville. However, just like the 2000 Jim Carrey Grinch movie, the new Grinch movie will need to add new plot material if it wants to fill 90-100 minutes, if not longer.
This poll is no longer available.
Connoisseur of Marvel, DC, Star Wars, John Wick, MonsterVerse and Doctor Who lore. He's aware he looks like Harry Potter and Clark Kent.
Your Daily Blend of Entertainment News
Thank you for signing up to CinemaBlend. You will receive a verification email shortly.
There was a problem. Please refresh the page and try again.