The Teen Titans Go! Trailer Tries To Ride Off Wonder Woman's Success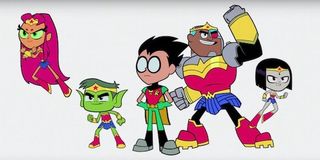 Since 2013, and following a series of shorts, the Teen Titans have been leading their own television adventures again in Teen Titans Go! on Cartoon Network. Although the show shares the same basic character designs and voice actors as the Teen Titans animated series from last decade, it's bares little resemblance with its predecessor, instead focusing more on comedy and gags. Last year, it was announced that this version of the team would be making the jump to the big screen, and now we have the first trailer for Teen Titans Go! To The Movies. Only rather than try to impress people with their own charm, Robin's teammates would rather capitalize off how popular Wonder Woman is right now.
It's no secret that Wonder Woman was one of the most successful superhero movies of 2017, earning numerous positive reviews and making over $820 million worldwide. So because this is the first time the Teen Titans are leading their own theatrical movie, Starfire, Beast Boy, Cyborg and Raven don't want to blow this, hence why they've all donned Diana of Themyscira's crimefighting outfits. We don't blame you for being enamored with Wonder Woman, guys. Like you said, she inspires people, and while the Teen Titans have certainly built a sizable fanbase over the decades, they're not at the same fame level as the Amazon warrior. Regardless, it's up to Robin to get the Teen Titans Go! To The Movies trailer back on track, so he let's the Narrator Guy do his thing.
Cut to the Teen Titans fighting the gigantic Balloon Man, and because Teen Titans Go! is primarily geared towards kids, we don't blame them for inserting a fart joke into the battle. The previews caps off with a nice zinger at Aquaman, because as the Teen Titans and Narrator Guy see it, if Arthur Curry can get his own movie, anyone can. Fair, although let's not forget that Jason Momoa's Aquaman is a far cry from the orange-shirted, green-gloved version most people recognize.
As the title suggests, Teen Titans Go! To The Movies will see Robin, Starfire, Beast Boy, Cyborg and Raven heading to Hollywood so they can star in their own movie, only to be intercepted by one of their greatest enemies. Along with the main cast all reprising their roles (Scott Menville as Robin, Hynden Walch as Starfire, Greg Cipes as Beast Boy, Khary Payton as Cyborg and Tara Strong as Raven), the movies will feature Will Arnett as Slade Wilson, a.k.a. Deathstroke, and Kristen Bell as Jade Wilson. This is Arnett's second time voicing a DC Comics character, as he's already well known as Batman in the LEGO Movie franchise, and while Deathstroke has a daughter named Rose in the comics, clearly the filmmakers decided it was better to go the rhyming route with her name. Oh, and according to USA Today (opens in new tab), rather than follow in her father's villainous footsteps, Jade Wilson is instead a "filmmaker du jour" who the Teen Titans seek out to help them find cinematic fame.
Teen Titans Go! To The Movies hits theaters on July 27, 2018. Don't forget to check out our 2018 premiere guide to see what other movies will be released this year.
Connoisseur of Marvel, DC, Star Wars, John Wick, MonsterVerse and Doctor Who lore. He's aware he looks like Harry Potter and Clark Kent.
Your Daily Blend of Entertainment News
Thank you for signing up to CinemaBlend. You will receive a verification email shortly.
There was a problem. Please refresh the page and try again.