Marvel Will Show Fans Where Jeff Goldblum's Grandmaster Goes After Thor: Ragnarok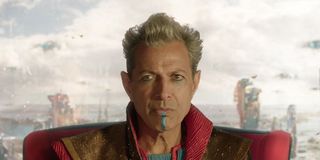 Warning: SPOILERS for Thor: Ragnarok are ahead!
In the period between Avengers: Age of Ultron and Thor: Ragnarok, Thor took a little break from his superhero adventures and moved to Australia, where he lived with an office worker named Darryl Jacobson. Okay, technically this isn't part of the official MCU canon, but the Team Thor shorts still made for amusing bonus content at 2016 San Diego Comic-Con and the Doctor Strange home media release, respectively. But Darryl's roommate troubles aren't over yet, as he'll soon find himself sharing apartment space with the former ruler of Sakaar, Grandmaster.
Thor: Ragnarok will be available on home media in two months, and it was announced today that one of the included bonus features will be a new short called Team Darryl. If you'll recall, Thor: Ragnarok saw Grandmaster being ousted from power on Sakaar after Korg and Miek started a revolution while Thor, Hulk, Loki and Valkyrie were escaping. With his kingdom taken away from him, Grandmaster sets out to start a new life, and that will lead to him meeting Darryl, who's been struggling to pay the rent ever since Thor departed a year ago. Unfortunately for Darryl, Grandmaster is the only one who answered the "Roommate Needed" ad, and with no other options, Darryl is forced to accept this strange being as his new roommate. As was the case when Thor was hanging around, cue shenanigans in Darryl's corner of the Land Down Under.
Shortly before Thor: Ragnarok's theatrical release, Jeff Goldblum revealed that he'd shot a short film involving "a roommate in Australia," and while Goldblum didn't say at the time where we should see this short, it makes perfect sense to attach it to Thor: Ragnarok's home media release. When we last saw Grandmaster in the Thor: Ragnarok post-credits scene, he claimed to some of his former subjects that the revolution ended in a tie and noted that he was instrumental in this uprising because if he wasn't around, said uprising wouldn't exist. Evidently in this version of events, he was somehow able to escape Sakaar and make his way to Earth, and now he's passing the time by taking in Australian culture. Given how luxuriously Grandmaster lived for hundreds of thousands years on Sakaar, it will be an interesting change of pace to see him ordering takeout and shopping at nearby markets. It also remains to be seen whether Grandmaster will be more or less annoying and frustrating than Thor in Darryl's eyes.
Thor: Ragnarok will be available digitally starting February 20, and the Blu-ray/DVD release will follow on March 6. Thor will return for Avengers: Infinity War on May 4, and while Grandmaster's next appearance hasn't been scheduled yet, Marvel Studios head Kevin Feige has expressed interest with seeing the character interact with his brother, The Collector.
Connoisseur of Marvel, DC, Star Wars, John Wick, MonsterVerse and Doctor Who lore. He's aware he looks like Harry Potter and Clark Kent.
Your Daily Blend of Entertainment News
Thank you for signing up to CinemaBlend. You will receive a verification email shortly.
There was a problem. Please refresh the page and try again.