Thor: Ragnarok Originally Had A Different Post-Credits Scene, Here's What It Would Have Been About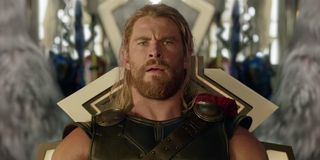 Warning: major spoilers ahead for Thor: Ragnarok! Don't read ahead if you haven't seen Thor Odinson's latest adventure, although we are mostly focusing on the post-credits scenes.
Marvel post-credits scenes have become fixtures of the MCU landscape, and while opinions of them vary among many fans, it's impossible to deny that they're now ingrained in the DNA of these films. With Thor: Ragnarok now in theaters, that trend seems alive and well with a mid-credits scene teasing the arrival of Thanos, as well as a post-credits scene showing the fate of The Grandmaster. That said, it turns out that the hedonistic ruler of Sakaar almost had a different fate in a different post-credits scene that was shot for the film. That scene would have involved him heading to Earth but the final post-credit scenes were chosen after reshoots. About the scene, Taika Waititi said:
The final version of The Grandmaster's post-credits scene from Thor: Ragnarok is pretty much played for laughs. It shows the despot getting cornered by angry Sakaar citizens after Thor, Hulk, and Valkyrie have made their escape. However, according to Taika Waititi's recent comments to Collider, the unused version of this sequence involved The Grandmaster and his trusty sidekick Topaz stowing away among the Asgardians as they head towards Earth. The filmed scene never made it into the final cut of the film, but it seems that it could potentially make its way into a deleted scene section or a possible extended cut for Thor: Ragnarok.
As far as narrative relevance goes, this filmed-but-unused post-credits scene could've teased some important directions for the future of the Marvel Cinematic Universe. Instead of merely suggesting that The Grandmaster and Topaz each received a severe beating from the people of Sakaar, this would've hinted at the possible arrival of the two bizarre aliens on our planet. With Thanos already coming in the upcoming release of Avengers: Infinity War, that could've added another fascinating dimension to the various MCU crossovers already on the horizon.
Unlike some other recent Marvel Cinematic Universe films, Taika Waititi actually made a point to cut back on the credits sequences and only use the two that made it into the film. The director also said:
This seems like a stark contrast to something like Guardians of the Galaxy Vol. 2, which featured several fun scenes to break up its credits. By contrast, the mission with Thor: Ragnarok was always to tell a relatively lean story, and that mentality appears to have factored into the decision only to include two credits tags.
Now that Thor: Ragnarok has officially made its way to the silver screen, you can check it out for yourself to see why the latest Marvel Cinematic Universe adventure is causing so much box office insanity. Next up is next year's release of Black Panther on February 16, and then we'll get the highly anticipated Avengers: Infinity War on May 4. You can also take a look at everything we currently know about Black Panther and Infinity War, respectively.
Your Daily Blend of Entertainment News
Originally from Connecticut, Conner grew up in San Diego and graduated from Chapman University in 2014. He now lives in Los Angeles working in and around the entertainment industry and can mostly be found binging horror movies and chugging coffee.