Gambit Has A Lot Going For It, So Why Can't It Get Made?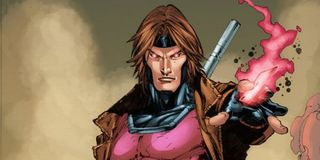 The X-Men franchise has produced a series of hits over the last few years, particularly as far as solo movies are concerned. Deadpool and Logan have both gone on to become mainstream sensations, and all eyes have been on the Channing Tatum-fronted Gambit movie to follow suit for quite some time. However, Gambit has languished in development hell for years, and with Gore Verbinksi's decision to walk away from the project, it looks like Gambit is only going to remain in that film industry purgatory even longer. On paper, a movie based on a fan-favorite X-Man like Remy LeBeau should work, so that raises one clear question: why hasn't it? We have thought long and hard about this, so let's dive in and talk this out.
Outside of Wolverine and Deadpool, Gambit might be one of the most instantly recognizable Marvel mutant characters of all time who doesn't need a full team around him. From his Cajun accent to his ability to charge up inanimate objects with kinetic energy (which leads to awesome explosions) to his badass bo staff, Remy LeBeau seems tailor-made to front a franchise of his very own. He has remained one of the most popular and beloved X-Men characters for the last three decades (likely in no small part due to his popularity on the X-Men animated series), and he routinely makes lists ranking the best comic book characters of all time. In layperson's terms, there's no shortage of love for the character out there.
That said, on the film side of things, the X-Men franchise just can't seem to make him work. The possibility of a Gambit solo movie has been batted around ever since Taylor Kitsch played the character in X-Men Origins: Wolverine, and Channing Tatum has remained attached to the role for the last several years. Alas, the Gambit movie has run through no less than three directors, with Rise of the Planet of the Apes' Rupert Wyatt, _Edge of Tomorrow_'s Doug Liman, and now _A Cure For Wellness_' Gore Verbinski all leaving the project for one reason or another. In the face of these breakdowns, people close to the production have tried to put a good face on the setbacks -- particularly Tatum, who put an optimistic spin on the delays while speaking with CinemaBlend at San Diego Comic-Con 2017.
On the other hand, it's getting hard to keep holding out hope for a film that has experienced numerous major delays for the better part of a decade. So what's the core of the problem? One possibility could be the fact that the folks at 20th Century Fox are having a hard time cracking a story that can adequately integrate Channing Tatum's Gambit (for all intents and purposes, a new character in this current X-Men franchise) into the existing timeline. There's also the possibility that 20th Century Fox cannot come to a proper consensus on the type of film that it wants to make -- a big, X-Men blockbuster, or a more intimate, Deadpool-esque experiment with a lower budget.
We should also consider the possibility that the studio hasn't made the smartest calls with the directors that it has chosen for this film. Rupert Wyatt, Doug Liman and Gore Verbinski are all talented filmmakers with distinct creative visions, but there's an argument to be made that they might not have the same connections with the Gambit source material that someone like Tim Miller had with Deadpool, or James Mangold had with Logan.
Of course, taking this whole situation at face value, we are also facing another question that needs to be answered: should the Gambit movie even happen at this point? In this writer's opinion (one which has been echoed on CinemaBlend before), it's time to let the project die. Audiences are incredibly savvy, and many members of the moviegoing community have caught on to stories about movies dogged by behind-the-scenes issues. Look no further than the poor box office performance of Zack Snyder's Justice League for evidence of that fact.
Does this mean that we should never get a Gambit movie? Of course not. The X-Men will be made available to Disney for inclusion in the Marvel Cinematic Universe in roughly a year and a half if the behemoth, $52 billion Disney-Fox merger goes through, which could provide another studio a chance to start from scratch and try a Gambit movie with a stronger creative vision and far less baggage than the Channing Tatum version. As with any hand of cards, you need to know when to hold them, when to fold them and (in the case of Gambit) when to let them blow up.
As of right now, the Gambit movie has shifted its scheduled release to June 7, 2019. Whether or not it will hit that window remains to be seen, but we here at CinemaBlend will keep you posted on the status of the film as new information is made available to us.
This poll is no longer available.
Your Daily Blend of Entertainment News
Originally from Connecticut, Conner grew up in San Diego and graduated from Chapman University in 2014. He now lives in Los Angeles working in and around the entertainment industry and can mostly be found binging horror movies and chugging coffee.