One Reason We're Excited About The Tomb Raider Reboot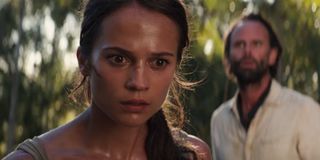 Video game movies are notoriously bad, but the genre will once again get another shot at glory when Alicia Vikander steps in as Lara Croft in Roar Uthaug's Tomb Raider. It has been 15 years since we last saw a live-action Lara on the big screen (in the form of Angelina Jolie), and while the video game genre hasn't really thrived in that time, there's one specific reason why we're excited for what Tomb Raider has to offer: it looks like it's more or less directly adapting the video games.
The resemblance is already uncanny. In the two Tomb Raider trailers that have already been released, we have seen the DNA of the recent Tomb Raider games (notably 2013's Tomb Raider reboot) spliced into the live-action take on this world. From the creation of an inexperienced Lara Croft to an island setting in which our shipwrecked heroine must fight for survival against a group of mercenaries, it's clear that Roar Uthaug has aggressively looked to the source material for plot points and action sequences.
These similarities have not gone unnoticed by the internet, as side-by-side comparisons have started to hit the web in the wake of the trailers. Check out an example of such a video, below.
Here's the thing? Why should we consider that a bad thing? Yes, our own Matt Wood has issues with this very angle. Fans of the Tomb Raider games love those games for specific reasons, and the movie looks like it's trying to cut to the core of those ideas. Instead of trying to reinvent Lara Croft in his first at-bat, Roar Uthaug is trying to capture what made 2013's Tomb Raider work and present a movie version of that story to a broader audience. In the long run, I think it's a smart play. After all, Andy Muschietti didn't change or remove Georgie's death scene from IT because audiences were familiar with that sewer sequence; instead, the film embraced the foundation that had been laid by its source material and adapted it in a visually compelling way that worked for a new medium.
Just look at more recent video game movies, and you will understand why this is a smart idea. Assassin's Creed completely changed the mythology of the games and turned the bed-like Animus into a giant crane that threw its occupant around a room. On the other hand, Hitman: Agent 47 upended the stealth-heavy elements of the Hitman series and turned its titular protagonist into a running and gunning killing machine.
Both of these video game adaptations failed to generate excitement among critics and audiences, and much of that blame can be placed on the fact that they didn't do their own games justice. By contrast, Tomb Raider is trusting that the game it's adapting is good, and showing what that story can look like when control is taken out of the audience's hands and filtered through a live-action lens. It's a classic adaptation, and it seems to respect its source arguably more than any other video game movie that has preceded it. If Tomb Raider is lucky enough to receive a sequel, then the director of that sequel can gladly deconstruct Lara Croft and try something new; for now, the proper course of action should rely on focusing what fans like about her story, and executing those strengths.
Of course, beyond all of that, it's worth pointing out that the Tomb Raider movie is still not presenting us with a 1:1 adaptation of the game that inspired it. Yes, set pieces like the waterfall plane and the parachute through the jungle have clearly been adapted, but the movie is also blending those action sequences with elements from the 2015 sequel (particularly the presence of Trinity), altering Lara's origins in the years leading up to her journey to the island, and adding new characters. Saying that Tomb Raider is cribbing too much from the games doesn't give enough credit to the elements of the movie that have been changed in this story's transition to the big screen.
Whether Tomb Raider's similarities to the video game source material will turn out to be a good thing or a bad thing remains anyone's guess, but this writer personally believes that the fidelity will pay off in the end. We will find out for sure when Lara Croft raids her way onto the big screen on March 16.
Originally from Connecticut, Conner grew up in San Diego and graduated from Chapman University in 2014. He now lives in Los Angeles working in and around the entertainment industry and can mostly be found binging horror movies and chugging coffee.
Your Daily Blend of Entertainment News
Thank you for signing up to CinemaBlend. You will receive a verification email shortly.
There was a problem. Please refresh the page and try again.