8 Big Movies Coming To Theaters In February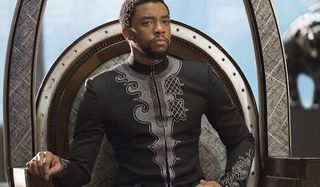 In February, Valentine's Day will fill the air with love, while Super Bowl weekend sends studios running for the hills. And all the while, the month that used to be a dumping ground in the old days has become a laboratory for finding the next sleeper hit or budding franchise. This year is certainly no exception, as there's quite a few titles heading to cinemas in the coming month that look rather A-listy. With that in mind, please enjoy the following laundry list of big movies you'll probably want to see in theaters this February.
Winchester
It wouldn't be February with at least one horror film in the can, and Winchester is the latest penny dreadful to try and win the market in this genre-friendly time frame. Based on the true story of the Winchester Mystery House, this is the latest film from horror favorites The Spierig Brothers (Daybreakers, Jigsaw), and stars Helen Mirren as Sarah Winchester - the widow behind "the house that ghosts built." With Jason Clarke playing a psychologist investigating whether or not this house's haunted history is legit or not, this movie has a pretty solid duo anchoring what could be an atmospheric horror treat.
The 15:17 to Paris
Clint Eastwood has been occupied with making films about modern American heroes as of late. And in the spirit of American Sniper and Sully, Eastwood's latest focuses on the thwarting of a terrorist attack, courtesy of three American servicemen traveling between Amsterdam and Paris. Separating this film from a standard biopic is the fact that Clint Eastwood actually cast the three soldiers, Anthony Sadler, Spencer Stone, and Alek Skarlatos, to play themselves in a film that covers their lives, their faith, and their valiant efforts.
Fifty Shades Freed
Fans of the Fifty Shades franchise, your day has come. The thrilling climax to the romantic thriller that's sold books, movie tickets, and plenty of peripherals for the adventurous couple has arrived with Fifty Shades Freed. Anastasia Steele (Dakota Johnson) and Christian Grey (Jamie Dornan) have finally tied the knot, and life should be incredible for the literary couple. But between a flirty architect, and a scorned ex-employee, this relationship looks like it's going to be put to the ultimate test - and we're not talking a Cosmo couple's quiz.
Peter Rabbit
You can see the thought process behind the existence of Peter Rabbit clear as day. If Paddington could do well in theaters worldwide, then why can't the rebellious rabbit of Beatrix Potter's legendary stories? Should this modernized adaptation of Peter's antics hold up to even half of those of Paddington Brown, then there could be a competitive market for whimsical animal pictures that ultimately entertain and educate. Looking at the kid's market in its current state, that is a fate that is always welcome.
Black Panther
What was once the experiment known as the Marvel Cinematic Universe slowly, but surely, morphed into an empire. And with any good empire, good leaders are needed; which makes Black Panther's arrival in theaters this February all the more welcome. Now the king of Wakanda, T'Challa will learn more about his powers, in the name of doing battle with those who aim to harm Wakanda, and the world at large. It may be February, but Ryan Coogler's debut in the MCU makes it feel like we've stolen an extra weekend of summer.
Early Man
Aardman Animation isn't like its contemporaries, save for Laika Studios, in the respect that they honor two important traditions in animated entertainment: stop-motion animation, and absurdist humor. Both are on board with Early Man, a film that's making its debut in the United States, with a cast boasting such favorites as Eddie Redmayne, Maisie Williams, and Tom Hiddleston. A comedic clash between the last cave people and the dawn of the Bronze Age, this romp takes its battle to the most logical venue possible: the soccer pitch. So on top of an animated film that just happens to be a comedy, throw in the genre of "sports movie" for good measure.
Annihilation
At this point, any time Alex Garland's name turns up on a project, there's going to be a good number of people that pay attention to said project from day one. Annihilation certainly fits the bill, as the author turned screenwriter / director is bringing the first story of Jeff VanderMeer's Southern Reach trilogy to horrific life. Natalie Portman is part of a rather impressive roster of talent that also includes Jennifer Jason Leigh, Tessa Thompson, and Gina Rodriguez, as an expeditionary crew that embarks on a rather dangerous journey into the unknown. Knowing Garland's pedigree, this journey is going to be far from safe and sound.
Game Night
Game night with friends is a time honored tradition, that almost never involves gun play, murder, or a frantic chase for clues across an entire city. And yet, Game Night takes all of those aspects and melds them into one, big, chaotic adventure. Basically, if you merged The Game with Date Night, you get Game Night. And if you ask us, that sounds like a fun time at the movies, especially when you've got Jason Bateman and Rachel McAdams as part of the proceedings.
Senior Movies Contributor
CinemaBlend's James Bond (expert). Also versed in Large Scale Aggressors, time travel, and Guillermo del Toro. He fights for The User.
Your Daily Blend of Entertainment News
Thank you for signing up to CinemaBlend. You will receive a verification email shortly.
There was a problem. Please refresh the page and try again.