The Awesome Actors The Black Panther Cast Wants To See Join The World Of Wakanda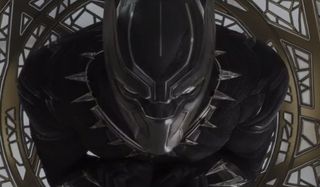 In bringing the world of Wakanda to the big screen for the first time, writer/director Ryan Coogler united a remarkable ensemble of incredibly talented actors. Sure, he may have inherited Chadwick Boseman as T'Challa, Andy Serkis as Ulysses Klaue, Martin Freeman as Everett Ross, and John Kani as T'Chaka, but the rest of the Black Panther cast is made up of name after jaw-dropping name. It makes you wonder who else could possibly join the special corner of the Marvel Cinematic Universe in a future film... and it turns out that the stars of the movie have some awesome suggestions.
I had the immense pleasure of sitting down with many members of the Black Panther cast last week during the film's Los Angeles press day, and during those individual and paired conversations I took the opportunity to ask them about actors they would want to see join the franchise someday. They not only had some great ideas, but even some interesting reasons for their choices, as you'll discover below and across the next few pages!
Michael B. Jordan Suggests: Yara Shahidi
In the last few years, Yara Shahidi has made some big moves in her career. She broke out in a big way back in 2014 with her role as Zoey Johnson on the hit ABC comedy Black-ish, and in just the last few weeks saw the launch of her very own spin-off series, Grown-ish, on Freeform. Only time will tell where her career goes from here, but if it were up to Michael B. Jordan, her future will involve a role as part of the Black Panther family.
The actor who plays Erik Killmonger in Black Panther not only suggested Yara Shahidi as someone he'd like to see in the world of Wakanda, but even offered up the role that he would love to see her play. He clearly thinks that she would be fantastic paired up with actress Letitia Wright, offering that she could play a best friend of Shuri, T'Challa's genius younger sister. There would be an annoying question lingering asking where she was during the events of Ryan Coogler's movie, but that would be something easily paved over with a single line of dialogue. And while Shahidi doesn't exactly have a long blockbuster resume (she played "Salt's Young Neighbor" in Salt), you have to start somewhere, right?
Daniel Kaluuya & Winston Duke Suggest: Ludacris
In case you can't tell simply by the actors I interviewed for this feature, Black Panther has one of the most amazing casts ever put together for a Marvel Studios film -- and this fact isn't lost on stars Daniel Kaluuya and Winston Duke. During my interview with them, they expressed amazement at not only the collection of talent, but how well-suited everyone is for their particular parts. This very much influenced their response to my actor question, because while they namedropped Ludacris specifically, the larger message was that the filmmakers could realistically bring in anybody to a future story and make it work.
Ludacris a.k.a. Chris Bridges is certainly no slouch when it comes to starring in blockbuster movies -- as he has long been a staple of the Fast and Furious franchise -- but he has yet to dip his toe into the superhero world. If he were to become a part of the Marvel Cinematic Universe, however, as Daniel Kaluuya and Winston Duke noted, one can guess that the franchise would find the perfect part for him.
Danai Gurira & Lupita Nyong'o Suggest: Snoop Dogg
When I asked Danai Gurira and Lupita Nyong'o my question about the actor they'd like to see join the Black Panther family, their answer was definitely different than everyone else. Specifically, they found inspiration from a special moment on set. Between takes during the shooting of the Warrior Falls sequence -- where T'Challa battles for the right to be king of Wakanda -- the drummers on set started to play the beat to Snoop Dogg's "Drop It Like It's Hot." It created such a special moment that the actresses want to see it honored in a future Marvel movie.
But who would Snoop Dogg potentially play? Apparently Danai Gurira and Lupita Nyong'o would be cool with keeping it a small part -- an Easter egg for anybody who knows the story of what happened behind the scenes of the first Black Panther. Gurira suggested some kind of small cameo for the rapper/actor, and Nyong'o suggested him playing a police chief. The ball is definitely in Marvel's court now.
Forest Whitaker Suggests: Wesley Snipes
Comic book fans think of Blade when they think of Wesley Snipes, but for a long time he had a very different Marvel character in his sights: Black Panther. When the actor was at the height of his fame during the 1990s, he made strides to try and bring the first ever black superhero to the big screen, though obviously he walked away from those efforts empty handed. Now Chadwick Boseman, a very different actor, is playing the big screen version of T'Challa, but Boseman's co-star Forest Whitaker told me that he would love to see Snipes become a part of the Black Panther family.
Forest Whitaker actually worked with Wesley Snipes as a director when he made Waiting To Exhale back in 1995, and was very clearly aware of the actor's Black Panther movie efforts when I asked him the question during the press junket. Obviously nobody expects the Marvel Cinematic Universe to replace Chadwick Boseman with Snipes as the King of Wakanda at this point, but it's also hard not to agree with Whitaker that the Blade star should be recognized for his past efforts trying to bring exposure to the important character. There are many, many roles within the Black Panther sphere that he would be appropriate for (Brother Voodoo, Achebe and Kiber The Cruel to name a few), so now it just needs to happen.
NJ native who calls LA home; lives in a Dreamatorium. A decade-plus CinemaBlend veteran; endlessly enthusiastic about the career he's dreamt of since seventh grade.
Your Daily Blend of Entertainment News
Thank you for signing up to CinemaBlend. You will receive a verification email shortly.
There was a problem. Please refresh the page and try again.