How One Black Panther Scene Nods At The Original Iron Man Movie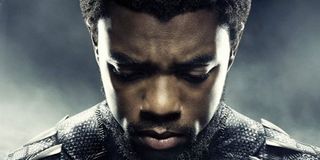 Warning: spoilers ahead for Black Panther! Read ahead at your own risk!
Ryan Coogler's Black Panther has turned into a critical sensation and box office hit for Marvel Studios. Much of this is because the film looks and feels so different from other Marvel Cinematic Universe films, but there's actually one specific way in which Black Panther harkens back to earlier Marvel adventures: the post-credits scene in which T'Challa (Chadwick Boseman) reveals Wakanda's true nature to the world. It's undoubtedly reminiscent of the now iconic "I am Iron Man" moment from Jon Favreau's Iron Man, and that was very much a conscious choice. Ryan Coogler spoke out about the press conference scene's admirable sense of realism in a recent interview, saying:
So, it sounds like it all boils down to adding a layer of authenticity to the world of T'Challa. Despite all of the awesome gadgets and badass fight scenes, a movie like Iron Man still managed to maintain a palpable sense of realism and authenticity. If Wakanda were to come out of the shadows in our world, it would look and feel just like how Tony Stark (Robert Downey Jr.) initially outed himself as Iron Man. That was something that Ryan Coogler told io9 he noticed when he first saw Jon Favreau's film in 2008, and it was something that he wanted to capture with his own Marvel film.
If you need a refresher course on that legendary moment, then you can check out the "I am Iron Man" scene below.
Ryan Coogler's comments about how a place like Los Angeles feels real in a movie like Iron Man probably carried over into other scenes as well. Even with Wakanda's outlandish set pieces, Black Panther also features some notably street-level scenes in Oakland, California that feel more in-line with Coogler's previous work on films like Fruitvale Station and Creed than the borderline mystical world of T'Challa from Marvel Comics.
Thematically speaking, it makes plenty of sense for Ryan Coogler to want to echo a moment from the original Iron Man. The story of the first Marvel movie stands as a watershed moment in the MCU's history because it introduces Tony Stark to the world of superheroes and lays the initial groundwork for The Avengers Initiative. In a similar sense, the ending of Black Panther brings Wakanda into the spotlight and implies a fundamental change in the landscape of this franchise that will have huge implications going forward. Beyond that, for the first MCU movie, and the last movie before the release of Avengers: Infinity War to feature press conferences in their final moments also seems like a poetic way to bookend ten years of Marvel films.
If you have yet to check out Black Panther and its post-credits scenes for yourself, then make sure to read CinemaBlend's full review of the landmark Marvel film and check it out for yourself. After all, as the press conference seems to imply: Wakanda is going to become a key player on Earth when Thanos (Josh Brolin) and his Black Order arrive for Avengers: Infinity War on May 4. Here's what we know about what's coming.
Your Daily Blend of Entertainment News
Originally from Connecticut, Conner grew up in San Diego and graduated from Chapman University in 2014. He now lives in Los Angeles working in and around the entertainment industry and can mostly be found binging horror movies and chugging coffee.