Black Panther Reviews Are In, Here's What The Critics Are Saying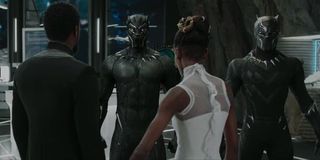 With less than two weeks until Ryan Coogler's Black Panther finally hits the big screen, audience anticipation has arguably reached an all-time high. Early critical reactions on social media were nothing if not glowing, and now the full reviews have started to hit the web. We have combed through several of the Black Panther reviews that have just surfaced online (including our own), and it looks like Marvel has yet another winner on its hands. The official CinemaBlend review of Black Panther says:
So it seems that Black Panther is another reliably solid entry in the Marvel Cinematic Universe. It's action-packed, with strong themes and ideas backing up its bigger and more fun sequences. That said, it's still a flawed movie, with somewhat clunky storytelling issues and some visuals that don't quite work. It's far from the best film that we have seen on the Phase 3 slate, but there's enough solid craftsmanship and filmmaking skill on display to praise it as a good movie.
Most of these sentiments are echoed by IGN's review of Black Panther, with similar emphasis placed upon the film's thematic strengths, as well as the cast's (notably Michael B. Jordan as the American Erik Killmonger) ability to bring the movie to life. The review reads:
Even more glowing is Rolling Stone's review of the film, which specifically points out the aesthetic beauty created by Ryan Coogler, as well as his ability to capture a very tough topic of racial injustice -- and yet still work it into an exciting action movie. Per Rolling Stone:
Then there's Forbes' review of Black Panther, which echoes our own critiques of the film's pacing issues, but it quickly shifts those problems to the side to broadly praise the film's ability to elevate Ryan Coogler to effective blockbuster director status, even drawing comparisons to Christopher Nolan and his work on Batman Begins.
Finally, we come to Polygon's take on Black Panther. Not only does this review praise much of the craftsmanship in the film, but it also goes one step further to assert that it's the best MCU entry to date -- even better than longtime standouts like The Avengers or Captain America: Civil War -- in the way that it gives us a proper villain. Polygon wrote:
All in all, the reviews that have hit the web seem to show a near-universal liked for Black Panther. It looks like the Marvel Cinematic Universe may have another hit on its hands (the film is already a box office winner in early ticket sales), and now it appears to have the backing of the critical community.
That's what the critics are saying about Ryan Coogler's Black Panther, but you will just have to see the movie for yourself when it debuts on February 16! From there, T'Challa and other members of the Black Panther supporting cast will appear on the big screen later this year when Avengers: Infinity War premieres on May 4.
Your Daily Blend of Entertainment News
Originally from Connecticut, Conner grew up in San Diego and graduated from Chapman University in 2014. He now lives in Los Angeles working in and around the entertainment industry and can mostly be found binging horror movies and chugging coffee.