The Theory On How The Venom Movie Could Use Peter Parker Actually Sounds Cool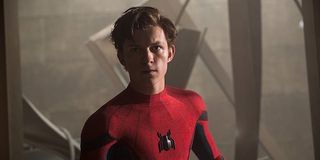 Sony Pictures is having its cake and eating it too when it comes to the Spider-Man property. In addition to partnering with Marvel to include Spidey in the Marvel Cinematic Universe, Sony is also building its own world populated with Spider-related characters, starting with Venom in October. While Venom is being advertised as a standalone tale, there have been rumblings that the movie might be connected to Tom Holland's Spider-Man and the MCU, and a new theory has been posited for how Peter Parker could fit into Eddie Brock's origin story.
According to Screen Rant, which spoke with a source who allegedly has knowledge about Venom's production, a scene was shot depicting a group of students visiting the Life Foundation headquarters for a field trip, which is being led by Riz Ahmed's character, Carlton Drake. Although Tom Holland wasn't seen on set that particular day, filming took place on private property, so it would have been difficult for anyone not part of the cast and crew to learn if the Spider-Man: Homecoming star was around, let alone take pictures or video of the shoot. So to that end, it's conceivable that Holland could have been part of that field trip scene, though that's merely speculation at this point.
It's worth a reminder that in the MCU, Peter Parker currently lives in Queens, New York, while Venom is set in San Francisco. However, Spider-Man: Homecoming saw Peter and his fellow Academic Decathlon teammates visiting Washington D.C., so it's not outside the realm of possibility that this field trip to the Life Foundation could be Peter and his Midtown High classmates traveling cross-country to visit the mysterious corporation. A quick cameo from Peter Parker is just enough to clue moviegoers in that Venom takes place within the MCU, but since Peter won't be wearing his Spidey duds, he won't distract from the main event, a certain symbiote-powered anti-hero.
While specific Venom plot details haven't been released yet, we do know that it in addition to showing Tom Hardy's Eddie Brock bonding with the extraterrestrial symbiote and transforming into Venom, he'll clash with the Life Foundation, which, if it's anything like the organization in the comics, will be responsible for creating other symbiotes. Even if Peter Parker does show up in Venom, it's already been made clear that Venom's special abilities will not be derived from Spider-Man's powers, so that connection has been wiped away. Still, if we're lucky, maybe Venom and Spider-Man will cross paths on the big screen in the coming years, giving comic book fans an epic battle that Spider-Man 3 failed to deliver.
Venom hits theaters on October 5, and while we'll have to keep waiting for the final word on whether or not Spider-Man/Peter Parker will appear in the movie, you can see Tom Holland's iteration of the Web-Slinger back in action even earlier when Avengers: Infinity War is released on May 4.
Connoisseur of Marvel, DC, Star Wars, John Wick, MonsterVerse and Doctor Who lore. He's aware he looks like Harry Potter and Clark Kent.
Your Daily Blend of Entertainment News
Thank you for signing up to CinemaBlend. You will receive a verification email shortly.
There was a problem. Please refresh the page and try again.