Who Jenny Slate And More Might Be Playing In Venom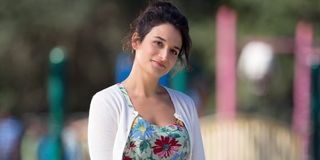 It's been nearly a year since Venom transitioned from languishing in development hell to moving forward as an actual movie, but there's still a lot of secrecy surrounding the project. For instance, of all the actors who've been announced as part of the cast so far, we only officially know who two of them are playing: Tom Hardy will portray the eponymous protagonist and Michelle Williams will portray Eddie Brock's love interest, Ann Weying. Unofficially, however, a new report has come providing the identities of three of Venom's other major players, including Jenny Slate's character, who until now has only been said to be a scientist.
While most characters in a comic book movie are usually taken straight from the printed page, Saturday Night Live alum Jenny Slate is reportedly playing someone brand new named Dora Skirth, who works for the Life Foundation. Director Ruben Fleischer recently confirmed that Venom is based off the Lethal Protector and Planet of the Symbiotes storylines, and the Life Foundation was featured heavily in the former tale. While it's certainly possible that Slate's Dora Skirth could end up being amalgamation of certain minor characters from the comics, for now it appears that she'll just be working on whatever this organization has cooking behind its walls.
As for the other two actors mentioned in MCU Exchange's report, Scott Haze and Riz Ahmed, unlike Jenny Slate, they apparently are playing characters who do originate from the comics. Haze, recently seen in Only the Brave, will portray Roland Treece, while Ahmed of Rogue One and The Night Of fame will portray Carlton Drake. Both sit on the Life Foundation's Board of Directors, and this report also claimed that other board members like Dr. Collins and Dr. Emerson will appear in Venom. In the comics, the Life Foundation is responsible for creating the symbiotes Scream, Riot, Agony, Lasher and Phage. It remains to be seen what the Life Foundation is plotting in the Venom movie, but if the group is anything like its comic book counterpart, than it's up to no good.
Of course, even if we assume that Jenny Slate, Scott Haze and Riz Ahmed's Venom characters are all part of the Life Foundation, there's still an antagonistic mystery that has yet to be solved: Carnage. Last year it was reported that Carnage, whose primary host in the comics is serial killer Cletus Kasidy, would be Venom's main villain, but we have yet to learn who will play this symbiote-powered menace, though here are still a few actors in the cast who could potentially fill this role, like Reid Scott or perhaps even Woody Harrelson. Assuming that Carnage is actually appearing in Venom, it's a good bet that he, along with Venom and any other symbiote that appears, will have direct ties with the Life Foundation in this universe.
Venom hits theaters on October 5. To find out what other blockbusters are arriving this year, check out our 2018 release schedule.
Connoisseur of Marvel, DC, Star Wars, John Wick, MonsterVerse and Doctor Who lore. He's aware he looks like Harry Potter and Clark Kent.
Your Daily Blend of Entertainment News
Thank you for signing up to CinemaBlend. You will receive a verification email shortly.
There was a problem. Please refresh the page and try again.