Black Panther Is About To Cross A Major Box Office Milestone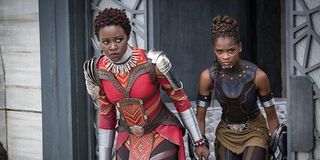 If you count Black Panther's Thursday night preview domestically last week, the latest venture from Marvel has been out for just around a week now. Anyone keeping track of the film's progress should already know that it doing quite well, and now, despite its limited time in theaters, Black Panther is actually about to hit a box office milestone: The flick is about ready to pass the half billion dollar mark at the box office.
That's right, in just a week Black Panther is about to make $500 million dollars. That's nine figures, and a pretty enticing nine figures, too. Of course, we need to point out that this is global gross that we are talking about and not domestic. Through Wednesday, the movie has made $491 million worldwide, with the international numbers hopping up to nearly $24 million. The movie already made over $200 million during the extended President's Day weekend. Although movies often drop 50% or higher during the second weekend in theaters, even if Black Panther's box office drops by that percentage, the numbers should remain high.
Deadline is also noting that the way Black Panther has been released seemingly contributed to this milestone. A lot of times movies come out on different weekends internationally and domestically. When that happens, even high-grossing movies will take a little more time to reach the $500 million mark. Marvel movies, including Avengers: Age of Ultron, usually follow this pattern, but this time _Black Panthe_r was released during the same week both domestically an internationally. The end result is that the overall box office numbers have hit really high marks really fast.
There are a number of theories regarding why Black Panther has been so successful -- even when compared with other Marvel solo movies. This includes the cultural moment the movie is having and the unprecedented success of some big budget movies during this quarter in recent years. Whatever the reason(s), Black Panther is seeing really high numbers, and without a ton of competition (although there are some interesting flicks) coming up, those numbers should stay high in the coming weeks.
As of the time of this writing Black Panther hasn't quite squeaked past the $500 million mark--or at least the numbers haven't been tallied yet. Still, it's imminent, it is expected to happen today and it is quite a big deal. This is a movie that saw presales higher than any other superhero movie that has come out so far. It's a movie that is certainly having a moment, and the numbers reflect that. You can currently catch Marvel's Black Panther in theaters, or if you've already seen it, you can read more about the making of the movie here.
Reality TV fan with a pinch of Disney fairy dust thrown in. Theme park junkie. If you've created a rom-com I've probably watched it.
Your Daily Blend of Entertainment News
Thank you for signing up to CinemaBlend. You will receive a verification email shortly.
There was a problem. Please refresh the page and try again.